'LIFE IS A CABARET' AT LA MIRADA THEATRE
REVIEW: CABARET
BY RYAN M. LUÉVANO
With just a drum roll and a cymbal crash, the iconic 1966 musical Cabaret, music by John Kander, lyrics by Fred Ebb, and book by Joe Masteroff, begins, luring audiences into the dingy cabaret, the Kit Kat Klub, in 1930s Berlin. Since its opening on Broadway, this eight Tony Award winning musical has celebrated numerous revivals and a film in 1972. It's the dark musical that audiences simply can't get enough of and offers a myriad of possibilities for presentation for theatre companies. La Mirada Theatre delves into the world of Cabaret with a presentation on the big stage that embraces the inherent grit of the show while never letting audiences forget that: "life is a cabaret".
Larry Carpenter's direction throughout the piece finely balances the risqué world of the cabaret with the bleak and dangerous Nazi presence that is emerging in pre-war Berlin. In the famous opening number "Willkommen", Carpenter aptly sets the tone for the whole piece. We understand the mode of storytelling and our eyes and ears are given a feast of exciting singing and dancing, complete with a Broadway style kick-lines.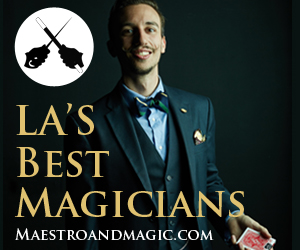 Dana Solimando's choreography proves to be the lifeblood of the piece, wholeheartedly representing the cabaret scenes. The Kit Kat boys and girls are given pulsating dance sequences that are a fine amalgamation of Fosse sentiments, burlesque attitudes and period allure. "Willkommen", "Don't Tell Mama", "Mein Herr", "It Couldn't Please Me More", "Money", and "Kick Line" are easily some of the most rousing moments in the whole show. What's remarkable about these dancers are their facial expressions during the dance numbers—if you are lucky enough to see their faces you'll also see the inner pathos of each scene. This is heightened by the beguiling red hot sexy costumes designed by David Kay Mickelsen—it's as if the costumes are taken right out of a shop window at the corner of Kurfürstenstrasse and Potsdamer Strasse in Berlin's Red Light District.
Ever since Joel Grey's Tony Award winning performance as the Emcee, and his repeat appearance in the film, he left his successors big shoes to fill. At La Mirada Theatre's Cabaret, Jeff Skowron rises to the occasion with a thrilling performance that's all his own. Skowron places his stamp on this mysterious character while offering stirring renditions of Kander and Ebb's catchy score—a tour-de-force performance. Following suit is Zarah Mahler as the strong Sally Bowles—she is a force to be reckoned with. From scene to scene, her objective is clear, and she belts these classic songs with ease and potency. Kelly Lester leads the show's subplot as Fräulein Schneider, making the plight of her character seem cardinal to the whole show. Her performances of "So What" and "What Would You Do?" serve to echo this point.
WHAT ABOUT THE MUSIC DIRETOR?
David O leads the beautiful all female Kit Kat Orchestra from the piano on stage with drive and precision. The band sizzles with Kander's jazzy score from start to finish—stay for the exit music, you'll be glad you did.
Come to the cabaret this winter to experience a dazzling and compelling presentation of this classic musical whose themes are just as relevant today as they were then.
OPENS: SATURDAY, JANUARY 20 at 8pm
through SUNDAY, FEBRUARY 11
PERFORMANCES: Wednesdays & Thursdays at 7:30pm; Fridays at
8pm; Saturdays at 2pm and 8pm; Sundays at 2pm.
There will be an Open Captioned performance on Saturday, February 3
at 2pm and an ASL interpreted performance on Saturday, February 10
at 2pm. Talkbacks with the cast and creative team will be onWednesday, January 24 and Wednesday, February 7.
LA MIRADA THEATRE FOR THE PERFORMING ARTS
14900 La Mirada Blvd. in La Mirada, CA 90638.
TICKETS: Tickets range from $20 – $70
$15 Student Tickets for the first 15 performances of the production.
For tickets, please call (562) 944-9801 or (714) 994-6310 or buy online at
www.lamiradatheatre.com.