FUNNY BUSINESS AT THE GARRY MARSHALL THEATRE
REVIEW: A FUNNY THING HAPPENED ON THE WAY TO THE FORUM
BY RYAN M. LUÉVANO
Classic musical comedy is alive and well at the Garry Marshall Theatre. Continuing their inaugural season is the laugh-out-loud production of A Funny Thing Happened On The Way To The Forum. The 1962 musical farce, with music and lyrics by Stephen Sondheim and book by Burt Shevelove and Larry Gelbart, is given a tour-de-force presentation that keeps audiences in stitches for the entire evening. If this is a musical that's fallen off your radar, now's the perfect time for a refresher. The plot is simple: in ancient Rome a slave named Pseudolus attempts to win his freedom by helping his young master woo the girl next door, hilarity ensues complete with everything you'd expect from classic farce.
Leading all the funny business is Paul C. Vogt (Hairspray Live!, MADtv, Broadway's Hairspray and Chicago) as Pseudolus who wins the audience from the onset with his exhilarated rendition of "Comedy Tonight". Voght's contribution to this notorious role is superb. What you get is the best physical comedy, sharp spur-of-the-moment quips and a sense of satire in his reactions to the nonsense that the upper classes enact. It's also clear that Vogt is just getting warmed-up, there's no doubt that as performances continue he will uncover even more mirth in this musical to share with audiences.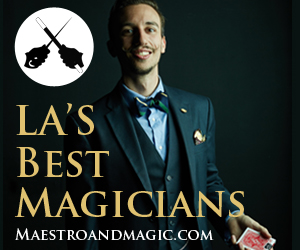 The direction by Joseph Leo Bwarie is refreshing and smart. Bwarie doesn't settle for rehashing the traditional presentation, but successfully injects a contemporary flavor and energy while retaining the inherent lifeblood of the show. This is mainly accomplished by playing to the strengths of each of the cast members, allowing their natural instincts to lead in quirky characters. Visually the set too contains contemporary flair in its ability to change color to match the energy of each scene making ancient Rome light up like Times Square from time to time—brilliant.
The choreography by Becca Sweitzer further supports Bwarie's vision with her exciting dance moments that are a blend of modern and traditional musical theater dance styles all well suited for the performers. The dance ensemble that includes Shamicka Benn, Liz Bustle and Vanessa Nicole sizzles when executing their advanced and sultry moves—stunning and captivating movement from start to finish.
Following Vogt's lead, Ethan Cohn's (Hysterium) antics on stage zestfully add to the mayhem—his straight-edge character turns into one fraught with laughable panic when he yields to Pseudolus' shenanigans. E.K. Dagenfield bring us two characters Lycus and Erronius changing roles literally at the drop of a hat—impeccable comedic timing here that at times even stops the show. Michael Thomas Grant (Hero) is given the most to sing in the show offering some of the best vocals in the show from "Love, I Hear" to "Lovely"—sweet sounds all around.  Clayton Synder (Miles Gloriosus) plays the handsome and narcissistic captain with flashy conviction that captivates from his first entrance.
WHAT ABOUT THE MUSIC DIRECTOR?
Brent Crayon makes all of Sondheim's classic music shine from the well-known songs like "Everybody Ought to Have a Maid" led by Kevin Symons, to the lesser known songs like "Bring Me My Bride" led by Clayton Synder. What's more he skillfully takes the twenty-piece orchestration down to four players and successfully performs the show with the band from another room in theatre.
Laughter is in the air at the Garry Marshall's production of A Funny Thing Happened On The Way To The Forum. And for those Sondheim fans out there, it's interesting to note that this was his first musical on Broadway as both composer and lyricist, and if you listen closely there are glimpses of his later musical styles that will define his sound for years to come.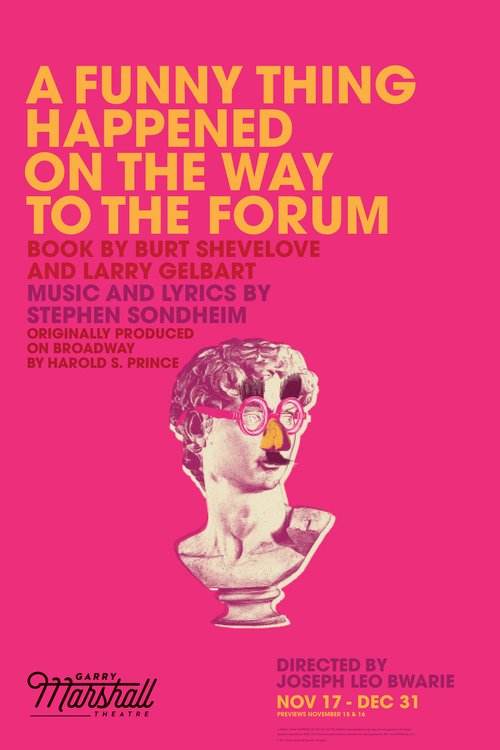 TICKETS AND MORE INFORMATION:
November 17 – December 31, 2017
Thursdays, Fridays at 8pm; Saturdays at 2pm and 8pm; Sundays at 3pm and 7:30pm
Wednesday, November 22 at 8pm and Wednesday, December 27 at 8pm
WHERE: Garry Marshall Theatre, 4252 W Riverside Drive, Burbank, CA 91505
PRICES: $45-$75
MORE INFORMATION:
Box Office: (818) 955-8101
Website: GarryMarshallTheatre.org