LOST HEART YIELDS BIG REWARD
REVIEW: WITH LOVE AND A MAJOR ORGAN
BY RYAN M. LUÉVANO
In our techy-world where we use text messages, emails, skype and apps to connect with other people, true face-to-face communication can be challenging for some, making the creation of deep connections even more problematic. In Boston Court's West Coast premiere of Julia Lederer's play, With Love and a Major Organ, the notion of human connection is explored through a fantastic metaphor that drives this quirky piece.
Lederer's play presents three lonely people: a young man named George; his overprotective mother, Mona; and a young woman subway rider. When George and the subway rider meet for the first time, it's love at first sight for her, but not for George who's uncomfortable talking to her. Meanwhile Mona struggles to find a soul mate on the internet. In a last attempt to win George's heart, the play takes a sci-fi-twist as the subway rider literally gives her heart to George, who then runs away with it. Before long, the subway rider finds that she is lost without her heart and that she must get it back.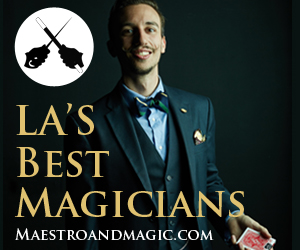 Lederer's poetic, whimsical and eccentric use of language makes for an evening that intrigues audiences with her clever similes and grand metaphors. Even when the play stalls at the midway point, it's able to pick-up steam again regaining our full attention to the predictable, yet satisfying denouement. Director Jessica Kubzansky embraces the world that Lederer has created by pushing her metaphors to their limits, leaving audiences with a delightful boon in the end—a subway ride of hope, love and self-awareness.
Together the set design by François-Pierre Couture and the projection design by Hana S. Kim are stunning—a subway station has never graced the stage more beautifully. The sound design by John Nobori adds to the wacky nature of the play with its contemporary/retro grooves and soundscape.
Daisuke Tsuji (George) is dynamic in this role, going from quiet (almost robotic) to zestful—a transformation that's the most significant and distinct in the end. Due to the disparity in ages between Tsuji and Paige Lindsey White (subway rider), it took some time for me trust the subway rider who, by no fault of her own, appears deranged rather than enamored in her sudden infatuation with George. Even so, the adjustment is overcome by White's unyielding spirit and energy that makes her character come alive. Bonita Friedericy (Mona) mines everything she can out of this seemingly perfunctory character as she displays her fear and frustration in her online dating experiences peppered throughout. Although all three characters complete an arc in the end, the dramatic impact for each is far from equal.
Could you trust someone with your heart? Could you be as vulnerable as the subway rider who sacrifices her own heart? In With Love and Major Organ these questions are presented leaving audiences wondering if they are capable of that kind of connection in a world where the interaction via smartphones and computers is the norm.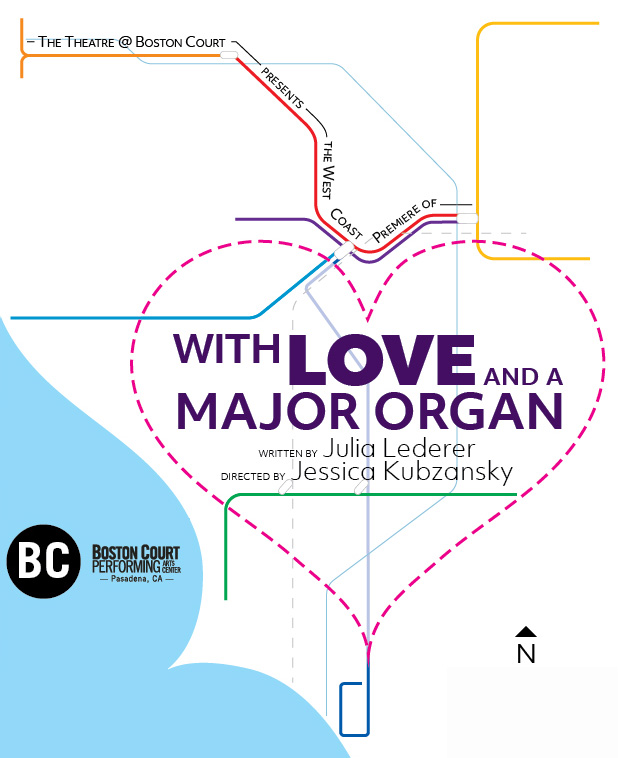 Performance Schedule:
With Love and a Major Organ
Written by Julia Lederer
Directed by Jessica Kubzansky
Thursday, September 28 through Sunday, November 5, 2017
Thursdays through Saturdays at 8:00pm; Sundays at 2:00pm (Except as Noted Below)
Previews:  Wednesday, Sept 28 through Friday, October 6
Opening: Saturday, October 7 at 8:00pm
Closing: Sunday, November 5 at 2:00pm
Specially Scheduled Performances:
Understudy Performances: Monday, October 16 at 8:00pm and Wednesday, October 18 at 8:00pm
No Performance Friday, October 13
Saturday Matinee, October 14 at 2:00pm
Live Wired Night (Post-Show Pizza and Beer Included in $10 Ticket Price): Thursday, October 12 at 8:00pm
Five Dollar Night ($5 Tickets available in-person one hour prior to the performance): Monday, October 23 at 8:00pm
The Z. Clark Branson foundation generously subsidizes Live Wired and Five Dollar Night ticket purchases.
Tickets and information:
Boston Court Performing Arts Center
70 N Mentor Ave. Pasadena, CA 91106
Website: BostonCourt.com
Phone: 626.683.6801
Prices: Single tickets currently range from $20 in previews to $39 in the regular run. Boston Court subscribers are encouraged to use remaining flex passes for With Love and a Major Organ. Additional 5-pack and 10-pack flex subscriptions are available for as low as $25 per ticket.