LITTLE PEOPLE, BIG HEARTS: A NEW MUSICAL ABOUT DISABILITY
INTERVIEW: BONNIE GLEICHER
BY RYAN M. LUÉVANO
I've only met the talented composer/lyricist Bonnie Gleicher once on a Skype session to discuss her ongoing musical The Little Things, and now months later she's completed her fourth musical Addy & Uno. In addition to Gleicher (music/lyrics), the new musical is a collaboration with Nava R. Silton, Ph.D. (book), with Emmy-nominated Donna Drake (Netflix's Julie's Greenroom and John Tartaglia's ImaginOcean) inline to direct. Addy & Uno uses puppets to explore the life of Uno, a child with autism, as he faces the challenge of competing in his school's math competition.
The concept for the show is inspired by a comic book series written by Dr. Nava Silton, now this story that features kids with disabilities is given a musical score by Gleicher. Addy & Uno was originally produced at Marymount Manhattan College in 2016, then in 2017 it was featured in the ReelAbilities NY Disabilities Film Festival; and this fall it makes its full debut at the Theater at the 14th St. Y in New York. In this Tin Pan L.A. exclusive Bonnie Gleicher discusses the process for getting this heartwarming story from page to stage and why this story's message is important for children and families.
How would you describe Addy & Uno in a nutshell?
Addy & Uno
is a heartfelt, hilarious, inspiring musical about bullying, disability, and friendship, told through puppets and unforgettable music. It's the first of its kind.
What inspired you to write this show? Why tell this story?
When I met with my collaborator Nava R. Silton Ph.D. (Concept & Book), I instantly felt for these kids. Every day, they face the fiercest of obstacles, and they do it with resilience and hope and humor. I got chills, and knew this was my musical to write. Individuals with disabilities are such an unseen and unheard population, especially in children's 
media
. We want to give a voice to kids who are different, and inspire a new generation of empathetic people.
Whose idea was it to use puppets as the characters? What's the reasoning for this creative choice?

Nava started off with the idea of an animated series, but because animation was so costly, and she could see the transformative power of puppets in her research, she decided to use that medium. It can be challenging for kids to start learning about differences, and she felt puppets would be much more accessible, colorful and welcoming. She applied for grants, and when she won, she commissioned David Fino (

Avenue Q)

 from the

Brooklyn Puppet Conspiracy

to create the puppets.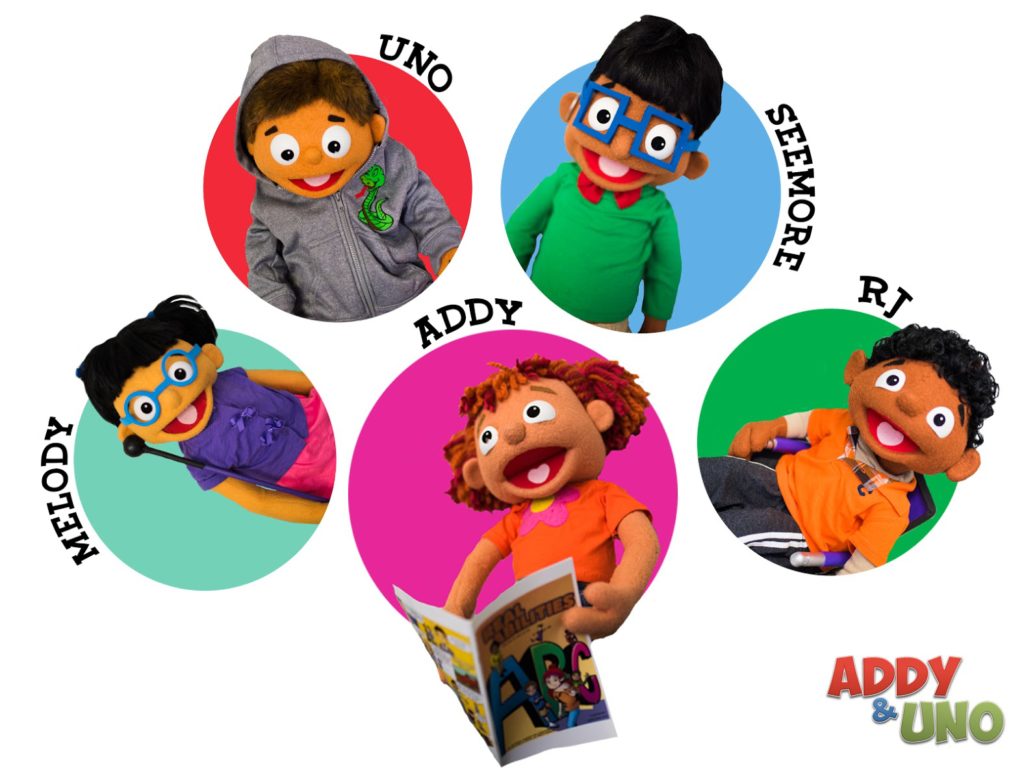 When writing this piece where did you start?
The musical is an adaptation of a successful 10-comic book curriculum Nava created called The Realabilities Educational Comic Book Series Curriculum. It's about 10 kids, each with a different disability, going on an adventure with their friends and being brave. Schools loved the curriculum; they started buying it and asking for more. They wanted a show to see, and thus, the musical was born.
My writing began with a colorful manual Nava gave me the day we met that comes with the curriculum and is given to schools; it's a beautiful guide from the perspective of both the kid characters themselves and adults about the characters' disabilities. I was able to get into the minds of these kids, while also understanding the strengths and limitations of each disability clearly. After our first meeting, I studied this manual for hours and wrote the first song the next day. Within a month, all the music was written.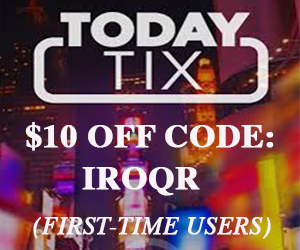 Describe your collaboration with Dr. Nava Silton?
At this point, we're like sisters. Co-producing and co-writing a show together means you're melding so much of your passions and lives together every day. We love this show.
How has the director Donna Drake helped you shape Addy & Uno?
Donna has been a gift. We hand-delivered the script and music to her NYC apartment and by the next morning, she had fallen for the characters and signed on. She sees the immense importance of the show, and she brings such an active, lively, humorous perspective to it. She's also wonderfully playful and kind, and this comes through in her work.
What is your favorite moment in the musical?
A song called "The Chosen One," when Uno, who has autism, is praised by the quirky math team for his strengths. It's a rap and a dance and the kids go wild. It's so adorable watching the kids laugh and dance in their seats.
What excites you most about Addy & Uno?
How powerfully it impacts people of all ages. Seeing adults laugh and cry, and kids walk out singing and doing sign language just fills my heart. It can change the world – for good!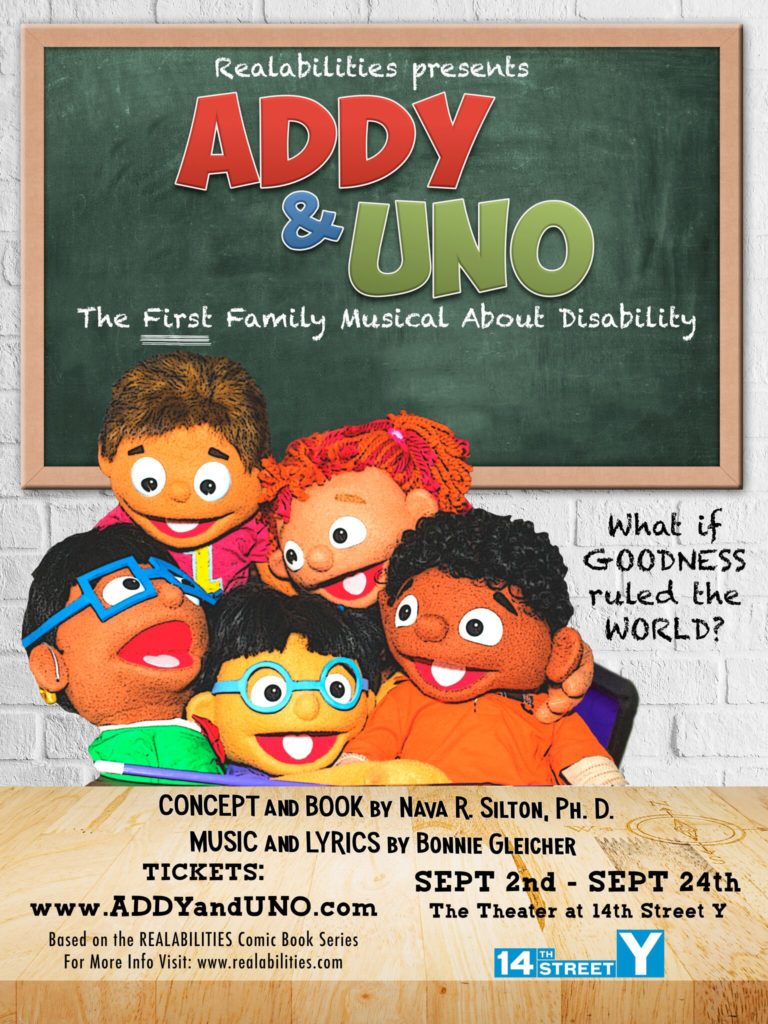 TICKETS AND MORE INFORMATION:
WHERE: The Theater at the 14th St. Y
344 East 14th Street (between 1st and 2nd Avenues)
New York, NY 10003
(212) 780-0800
Closest trains: L at 1st Ave./3rd Ave., 6 at Astor Pl.
WHEN:
September 2nd to September 24th
,
11am and 1pm
*Ticket price: $20 August special
Addy & Uno runs 50-minutes without an intermission.