SWEATING BULLETS 'ON THE 20TH CENTURY'
REVIEW: ON THE TWENTIETH CENTURY
BY RYAN M. LUÉVANO
As a frequent theatergoer in Los Angeles I've sampled many of the cities theater buildings so when I saw that Proof of Doubt Closer Theater company was producing the musical On the Twentieth Century at the Pan Andreas Theater I was curious. I've never heard of this theater before and now I know why: the theater does not have air conditioning. In the peak of LA's heat wave the audiences are forced to sweat it out while trying to enjoy this production. However, I would like to commend all the actors and the musicians who seem unfazed by the smoldering heat with their bright smiles and glowing performances.
In regard to the overall production one big question comes to mind: why did the company choose to produce a large stage show in a small black box theater? This is a monumental show that is best produced on a large stage to accommodate the sets, over the top farce, big musical numbers and the substantial cast.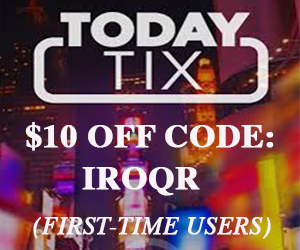 What's more director Trace Oakley missed the train in this production by trying to cram all the elements of a large stage show into this tiny theatre. Not only were sets and costumes overdone, but often the actors over the top acting style simply did not land. On a big stage this would all be fine, but here it's too much. Everything about this production felt incongruent in this small space making for a show that was slightly uncomfortable beyond the temperature of the room.
Despite the ineffectual creative choices made by the theater company, the show is enhanced by its talented cast. Nates Bates (Owen O'Malley) and Rafael Orduna (Oliver Webb) from the onset make a charming pair with their strong voices and wacky acting styles. Wade Kelly (Oscar Jaffee) plays this larger than life impresarios with fervent conviction—just what you want in an Oscar Jaffee—bizarre, ruthless and slightly insane.
Alena Bernardi (Lily Garland) surprises audiences with her silvery soprano voice in "The Indian Maiden's Lament", then keeps us entranced with her consequent musical numbers. Bernardi offers so much breadth in this complex character while keeping audiences following her every move. The porters that sing and dance throughout the show are another unexpected treat—Nicole Sevey, Talya Sinde, and Rowan Treadway—bring out Coleman's sweet harmonies with ease and delight.
WHAT ABOUT THE MUSIC DIRECTOR?
There is a tremendous amount of fantastic singing in this show. Music director Alena Bernardi together with Cynthia Heath have done commendable work realizing Coleman's big score. The four-piece band that Heath leads is also incredible, their performance adds so much to this musical romp. Just like the cast they too are subjected to the seething heat and also remain unfazed, even the poor bass player who performs from inside a closet.
MORE INFORMATION AND TICKETS:
Fri. & Sat. at 8:00, Sun. at 2:00. Ends Aug. 27TH
PAN-ANDREAS THEATER
5119 MELROSE AVENUE
LOS ANGELES, CA 90038