BEBE WINANS TAKES TO A MUSICAL TO TELL HIS STORY
REVIEW: BORN FOR THIS
BY RYAN M LUÉVANO
Opening The Broad Stage's 2017-18 is the new musical, Born for This, a show that could be more aptly named: "BeBe Winans' Life in Concert," as the autobiographical musical gives more the impression of a concert rather than a dramatic musical. That being said, the highlight of Born for This is BeBe Winans energetic gospel R&B score that sizzles with the top-notch vocals with its stellar cast, many of which are Broadway veterans.
The musical tells the true story of Detroit teenagers BeBe and CeCe Winans who get their start as the only African American singers on Jim and Tammy Faye Bakker's Praise The Lord Network in Pineville, North Carolina. We follow their journey as they cross over into mainstream success navigating the waters of fame and fortune, while grappling to maintain their religious values.
Unlike traditional musicals Born for This resigns most of the storytelling to the book scenes that are peppered throughout. Only one third of the thirty songs in the show are book songs (that is songs that further the story and illuminate a character's feelings) the rest of the score is purely diegetic songs (performances). The lyrics, also by Winans, follow suit with pop idioms that rarely reach the dramatic heights of theatrical language.
Upon seeing this musical, one thing is certain: there is a deep river of musical talent flowing in the Winans' family blood. Starring as BeBe Winans and CeCe Winans, actual members of the Winans family, Deborah Joy Winnans and Juan Winans take on these roles—they're the heartbeat of the show and their voices shine in every number.
Everyone in this show can sing and just when you think that a character isn't going to have a song, the audience is pleasantly surprised when they get their opportunity to show off their voice. Such is the case with Milton Craig Nealy (Pop Winans) who opens act two with "Praise the Lord (Reprise)"/"I Got A New Home". This is the only song he sings and the payoff is well worth the wait. Later in act two Nita Whitaker (Mom Winans) follows suit exciting audiences with her powerful rendition of the song "Seventh Son". Whitney Huston played by Kiandra Richardson makes an appearance in the second act and offers a robust performance of the power ballad "Applause." Although not a big singing role, Kristen Wyatt (Tammy Faye Bakker) is hilarious—she's a fireball of energy and comedic gold—her contribution to this show is indispensable.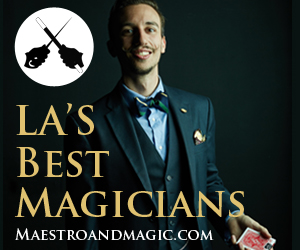 WHAT ABOUT THE MUSIC DIRECTOR?
Jaret Landon expertly leads the show from the keyboard and has put together one of the most impressive vocal ensembles heard on stage in LA. The six-piece orchestra that consists of three keyboards, guitar, bass and drums is a group of accomplished musicians that bring these soulful gospel and R&B grooves into all of Winans score. The orchestrations by Steve Jamail leave much to be desired as the band is so electronic heavy that it sounds artificial, the addition of three horns would easily enliven this score.
Born for This may not live up to the craftsmanship of a Broadway musical; however, the performers, music and production value still make for a evening of rousing entertainment while shedding light on the BeBe Winans story.
What: Born for This
Where: The Eli & Edythe Broad Stage 1310 11 th St. Santa Monica CA 90401. Limited free parking is available.
When: Now through August 6, 2017
Tuesday – Friday at 7:30pm;
Saturday – Sunday at 2:00pm and 7:30pm
Tickets
Online: www.thebroadstage.org
Phone: Patron Services at 310.434.3200
In Person: Box office at 1310 11 th St. Santa Monica CA 90401 beginning 3 hours prior to the performance.