GET CARRIED AWAY WITH 'OKLAHOMA!'
REVIEW: OKLAHOMA!
BY RYAN M. LUÉVANO
The musical Oklahoma! by Richard Rodgers and Oscar Hammerstein II was know as the "musical heard 'round the world" in 1943 as it was the first full realization of the new concept of the "book musical" (where the music and dances are woven tightly into the dramatic structure of the story). Additionally, Oklahoma! was the first musical written by Rodgers and Hammerstein II, running an astounding 2,212 performances. Now over seventy years later even when musical theater has come such a long way, this musical still stands the test of time with its heartwarming story and tuneful score. This summer 3D Theatricals is reacquainting audiences with the classic musical in a production that is as enchanting as it was many years ago.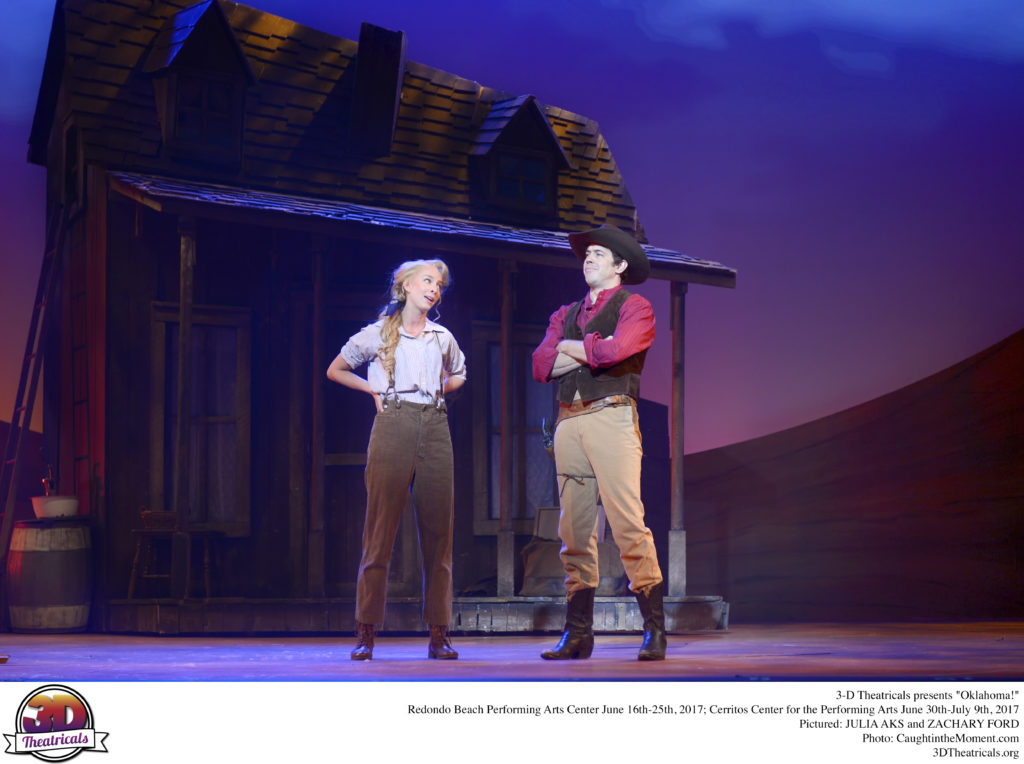 Director T.J. Dawson digs deep to breathe new life into this musical while preserving the show's inherent old-fashion charm. What Dawson does so successfully is making sure each character and role, not matter how small, has an identity. Drew Boudreau as Ali Hakim is a funny and charming salesman, Andrew Carnes as E.E. Bell entrances audiences from his very first scene as the Ado Annie's hard-nosed gun wielding father; and Cloie Wyatt Taylor as Gertie is hilarious with a boisterous laugh that is simply contagious.
The choreography by Leslie Stevens explodes with life and energy in every number. The whole cast in this show can dance and each dance number is a showstopper. Dance is such a crucial element to Oklahoma's story, and Steven's proves that she's up for the challenge. She is able tell a story with movement in a way that's beautiful and profound. The "Out of My Dreams Ballet" is one of the most breathtaking pieces of dance you'll see on stage. From section to section, this fifteen minute ballet is a tour-de-force of storytelling through movement that will transport you into the story.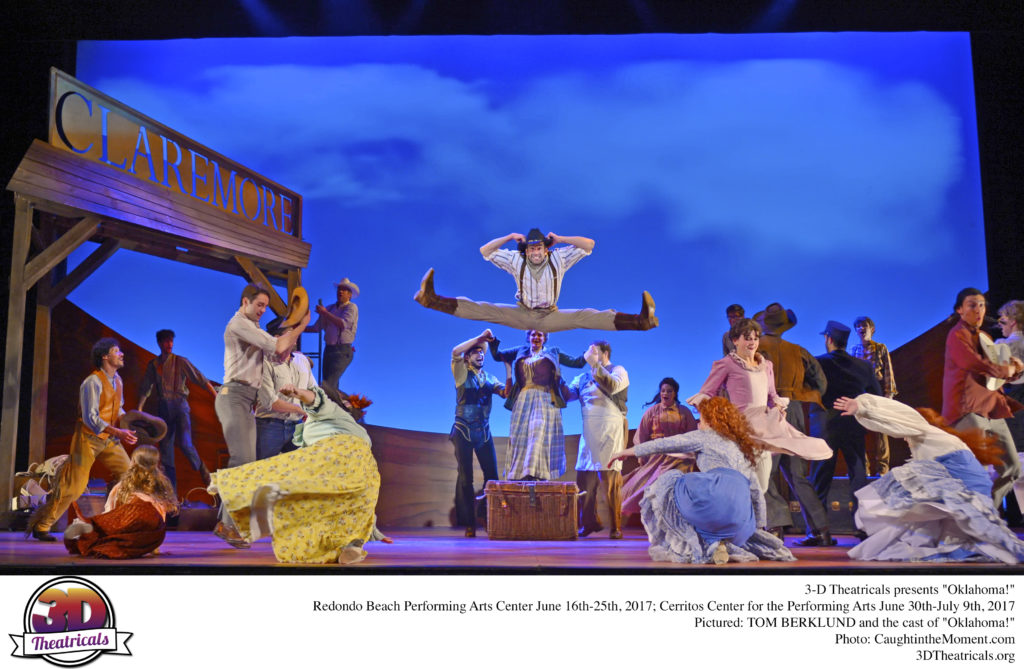 Oklahoma! is not complete without a setting befitting of the state's wide-open spaces and fields of corn as high as an elephants eye. In 3D's production of Oklahoma! audiences are carried away into this country setting. In the very first scene the stage is lined with rows of corn that extends across the stage beside a windmill and in front a projection of the sky complete with birds flying in and out—gorgeous. Add to this is a large wooden house that that is transformed into many locations for the musical using a turntable, and it's theatre magic. These simple set pieces are further enhanced by the radiant lighting by designer Jean-Yves Tessier who visually takes audiences from dawn to dusk.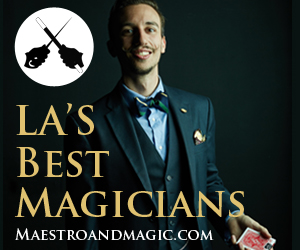 There is no shortage of talent in 3D's Theatricals Oklahoma! each person is an asset to this big musical. Julia Aks (Laurey) is winsome and incredible—she's the tough tomboy who transforms into a woman with a silvery soprano voice that glistens in every song. Zachary Ford (Curly) is rugged and sincere, he makes all his songs seem conversational and natural in his sweet baritone voice. Tracey Rowe Mutz (Aunt Eller) is sassy and charming every scene, with her feel like you're right at home. Rufus Bonds, Jr. as the disturbed Jud Fry is sensational—in everything he does he acts the brute and his rendition of "Lonely Room" is powerful and gripping.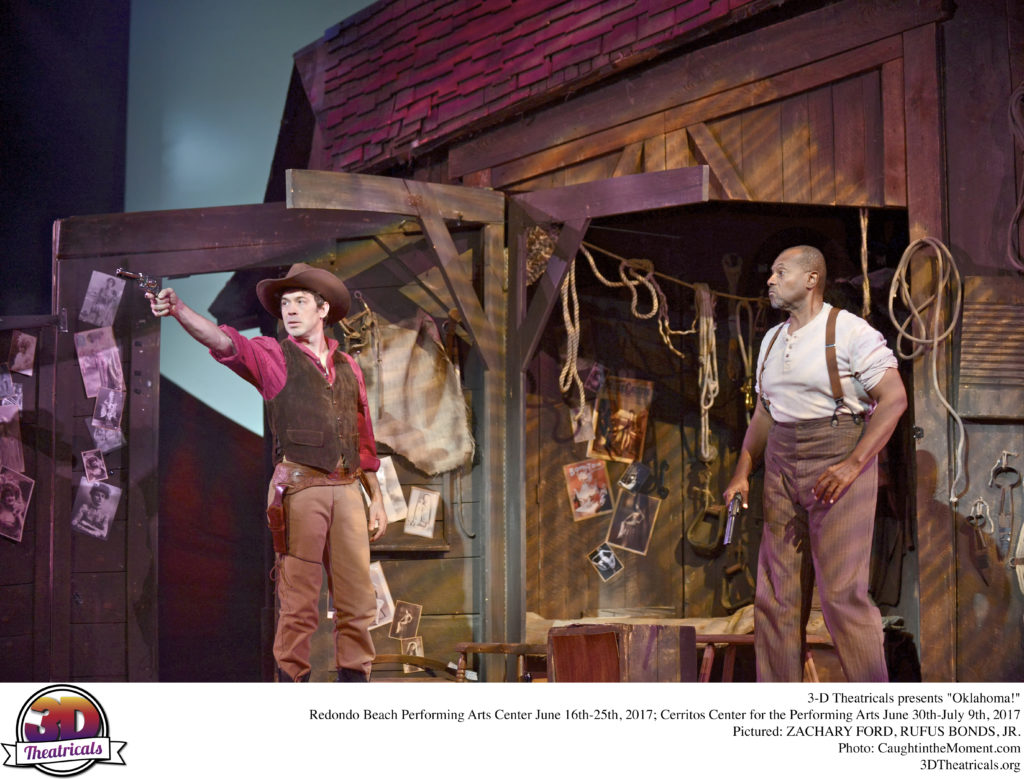 WHAT ABOUT THE MUSIC DIRECTOR?
Julie Lamoureux expertly leads the full 23-piece orchestra through Rodgers' lush score and prepares the cast to sing this marathon of a show. All the music elements in 3D Theatricals Oklahoma! are crisp and a pleasure to listen to as they successfully bring this classic score to life.
Whether you've only seen the film version or have never see this show at all, you will want to see 3D's production of the classic that started it all—it's a treat for the whole family.
CERRITOS CENTER FOR THE PERFORMING ARTS
June 30 – July 9: 12700 Center Court Drive, Cerritos, CA 90703
Theatre Box Office: 562-916-8500. Hours: 10:00 am – 6:00 pm Tuesday – Friday; 12:00 – 4:00 pm Saturday.
Ticket Prices: Tickets are on sale now for $40.00 – $85.00. Online Ticketing: www.Cerritoscenter.com OR www.3dtshows.org
Performance Dates and Times:
Thursday, July 6 at 7:30 pm
Friday, July 7 at 8:00 pm
Saturday, July 8 at 2:00 pm and 8:00 pm
Sunday, July 9 at 2:00 pm