'NEXT TO NORMAL' SUPERCHARGED WITH HEART
REVIEW: NEXT TO NORMAL
BY RYAN M. LUEVANO
Even now, it's not too long ago that Brian Yorkey and Tom Kitt's musical Next To Normal received three Tony Awards back in 2009, followed by a national tour that included a visit to the Ahmanson Theatre where I first experienced this powerful musical. The story centers on a mother who struggles with bipolar disorder, and how her illness affects her family as they struggle to find a cure. With its small cast size and modest set requirements, Next To Normal offers innumerable staging potential for stages of all sizes. Now East West Players offers LA audiences a stirring and poignant production of this musical that is spearheaded by its prodigious cast.
There are no small parts in Next To Normal, every character must hold its own musically and dramatically, however, Diana (the mother) is always the most challenging role to fill. In this production, Deedee Magno Hall as Diana is exhilarant and captivating. Her portrayal of this role provides a full embodiment of the all the emotions that her character feels—Hall is completely vulnerable on stage and you just can't look away. Add to this her powerful singing voice in Kitt's heart-wrenching numbers and it's a rollercoaster from start to finish. What's more, in real-life Hall is married to Cliffton Hall who plays her fictional husband Dan in this production. Cliffton, too, holds his own with his mighty voice and masterful acting—the dynamic between these two is something you rarely see on stage anywhere.
Isa Birones as the daughter Natalie is in full command of this role, floating through this show with drive and teen fury—I remember her original performance last summer at the Pico Playhouse, she was impressive then, and now she's extraordinary. Justin W. Yu as the son Gabe is youthful and ghostly; his presence in every number excerpts an ominous presence that is utterly chilling. Yu's strong tenor voice is rock solid in Kitts athletic rock score—a fine example of dramatic singing.
Aesthetically, this production is enhanced by the lighting design by Kathryn D. Laurence. Her lighting plot follows the underlining dramatic plot of darkness to light beautifully. Additionally, her use of side lighting and up lighting to create shadows on the sidewall, often times when Gabe was on stage, is a technique that is highly effective within this show. The set design by Hana Sooyeon Kim, which recreates the architecture of a house frame, complete with functional upstairs and downstairs areas, does a utile job of delineating the stage while giving audiences the feel of a family moving around in a house. Director, Nancy Keystone leaves no stone unturned with her vision for this piece, all the parts fit nicely to bring audiences a moving and unique production. Keystone even includes employs light choreography—the section with the dolls is easily an a moment to look forward to in this production.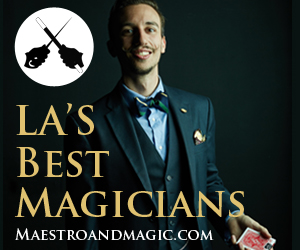 WHAT ABOUT THE MUSIC DIRECTOR?
Music director Marc Macalintal skillfully leads the four-piece band and cast from another room while maintaining this unyielding rock score that dominates from scene to scene.
MORE INFORMATION AND TICKETS:
Performances EXTENDED to June 18th, 2017.
RUSH TICKETS
Rush tickets—$25 regular and $20 student/senior (with valid ID)— will be
available starting on May 20, 2017 for Thursday 8pm and Saturday 2pm
shows.
WINE DOWN FRIDAYS
A complimentary glass of red or white wine will be served before the
Friday show during the regular performance run. (Interested parties must
be 21 years of age or older to drink.)
WHERE:
East West Players
David Henry Hwang Theater at the Union Center for the Arts
120 Judge John Aiso Street
Los Angeles, CA 90012
Tickets may be purchased at www.eastwestplayers.org or please call
(213) 625-7000, making sure to mention any wheelchair/accessible
seating needs. Student, senior, and group discounts are available.
General Admission ticket prices start at $50. Dates, details, and ticket
prices are subject to change.