CREATING A WEREWOLF ROCK MUSICAL
INTERVIEW: ERIK BLAIR AND DANIEL SUGIMOTO
BY RYAN M. LUÉVANO
They Played Productions debuts its first live project; a serious adult musical about werewolves that explores obsession, our need for choices…and the rage within, this musical is Nothing Bad: A Werewolf Rock Musical. The show tells story of Perfection, California, where everything is exactly that—perfect. But when good girl Lilly White realizes she wants something more than everything, the rebel motorcycle gang looks like a great solution. There's only one problem: they're werewolves. And once she's bitten, she will learn about Perfection's dark underbelly as she transforms into The Beast. In this Tin Pan L.A. exclusive the creators behind this musical, Erik Blair (book) and Daniel Sugimoto (music and lyrics), discuss what it took to create this musical and what audiences can expect from their new show at this year's Hollywood Fringe Festival.
What are each of your backgrounds in terms of theater and creating new musicals?
Erik Blair: I've been working in theatre for 20 years, having written and directed my first play while a junior in high school. I've got a B.S. in theatre from Northwestern University in Chicago and have directed over 100 productions in multiple cities across the country. This is the first musical idea I've ever brought to the stage. Daniel Sugimoto has written several musicals recently, including last year's Fringe show Broadway Noir, Letters to Eve and the new musical We The People. His ability at crafting musical songs and lyrics are phenomenal, which is why I wanted to partner with him to bring this horror story to life.
How would you describe the musical in a nustshell?
EB: Nothing Bad: A Werewolf Rock Musical tells the story of Lily, a woman with a perfect life in a perfect little town—so perfect that she wants more. But just like in any good monster story, you should be careful what you wish for, because what she finds is a creature that bites her, starting her on a transformation into a Beast that may destroy everyone she loves. It's a true horror story for adults.
Daniel Sugimoto: This musical is a clear runner for a new found Rocky Horror type event.  It's a musical with a lot to say about city politics and the veil put over everyone.  I think it'll develop a cult following of people who love the lore and modern take on what the Wolfman really means.
What inspired you to write this show? Why tell this story?
EB: Werewolves have always been my favorite 'classic' monsters, so I know their mythology. It's a cautionary tale about being wary of those who have anger issues, of those whom every once in a while 'unleash' a monster from within themselves. But the story is traditionally told about a man. I wondered what would happen if you instead made it a tale about a woman. What would the story be about? How would it alter? This musical is the result.
When writing this piece where did you start?
EB: I started this piece with two pieces of the story. First, I wanted to understand my main werewolf. What made her so angry? Why did she get bitten? And as I determined those answers, I realized that I wanted the werewolf to be something truly fun: I wanted the character to be played by two actors—one the human and another the Beast. That way, they could fight for control throughout the play. I think we've accomplished that quite well.
What influenced the music for this show?
EB: The music for this show's been inspired in a few ways. The people of the town the play is set in are all conservative and nostalgic, so their music is 1950's inspired. The werewolves are rebels and their music is 1980's rock-infused. And the entire musical itself is inspired by Daniel's love of Billy Joel, as we wanted this musical to be comprised of songs that would feel like "singles" across the board.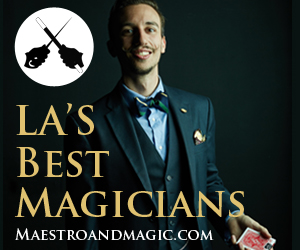 DS: For this show I dug up some Billy Joel, Elton John, Beatles roots and started listening to how they develop hooks and chord transitions.  Erik said he wanted classic rock and do-wop, so I combined some different sounds and styles to pay homage to these artists and serve the show.
When did you start writing this musical? How long did it take you to write the show?
EB: We started working on this show just after last year's Hollywood Fringe festival. I'd been a part of Broadway Noir, and I came to Daniel with the idea for a darker, horror-based musical. He loved the idea and we began working on concepts within a few weeks. The musical was completed in February of this year.
What excites you most about the show?
EB: What excites me most about this show is that I think this is a great example of what Fringe is for. Here we are, launching a new musical to an audience who will get to see it in its most primal form—a raw, vibrant first run of a musical that is a really different take on the werewolf myth. It's my first musical ever and I'm legitimately thrilled for audiences to get a look at it.
DS: I'm excited to see the audiences reaction to up beat poppy songs with more thought-provoking lyrics.  Give them a couple seconds to enjoy the song but then immediately think about whats actually being said.  That's my favorite thing to do with pieces like this; surprise the audiences.  Surprises are honest, keep the audience involved with the whole world of that show.
What can audiences expect from your show?
EB: Audiences can expect a truly brilliant cast, awesome music and a story that is not a parody. There's no fooling around here—it's a true horror story, although the darkest monsters in it may not be the ones you think.
TICKETS AND MORE INFORMATION:
DATES AND TIMES:
*Friday, June 2 – 7 p.m.
Thursday, June 8 – 8:30 p.m.
Sunday, June 11 – 9 p.m.
Friday, June 16 – 11:30 p.m.
Saturday, June 24 – 9:30 p.m.
*Discount code is "HOWL" for $10 tix for this show only
LOCATION:
Studio/Stage
520 N. Western Ave.
Los Angeles, CA 90004
FOR MORE INFORMATION:
www.hollywoodfringe.org/projects/4168