MAKING 'COMIC-CON THE MUSICAL' A REALITY
INTERVIEW: LAURA WATKINS AND NICHOLAS BRANDT
BY RYAN M. LUÉVANO
I remember seeing Comic-Co the Musical at the 2016 ASCAP/Dreamworks Musical Theater Workshop with Stephen Schwartz at the Wallis Annenberg Center for the Performing Arts (Here's a link Tin Pan L.A.'s recap of the 2016 workshop the includes Comic-Con the Musical: Full Article). The musical even then, in its development stage, was an audience favorite with hilarious characters and energetic music. Now this new musical is back and ready to make its world premiere at the 2017 Hollywood Fringe Festival. Creators Laura Watkins and Nicholas David Brandt are bringing audiences this fun musical that follows a trio of con-goers on their path to friendship and acceptance while taking audiences on a musical journey of what it's like to be at a Con. In this Tin Pan L.A. exclusive the creators of this musical discuss their inspirations and what audiences can expect from this new musical that celebrates fandoms, diversity, and nerds of all kinds.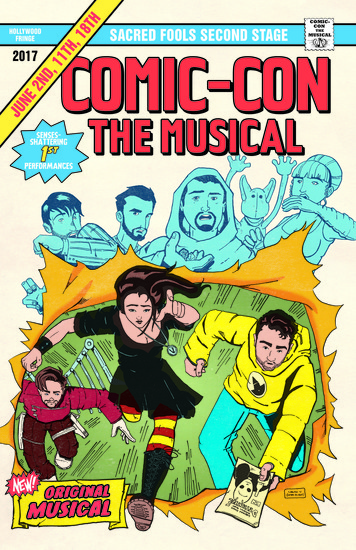 How has your Comic-Con the Musical changed based on the feedback given at the ASCAP Dreamworks workshop in 2016?
NB: For me, the biggest notes from the ASCAP Foundation DreamWorks Musical Workshop were about getting more clarity on who the characters are and what they want. We took these notes very much to heart and developed with this in mind in the workshop we staged in November and in preparation for our Fringe performances. The new opening takes great strides to establish the unique character identities.
LW: A lot! To start, we completely rewrote the opening number to include a little bit of "I want" from each of character in the show. We made sure that every character had individuality, deep seeded desires, and important story arcs. We cut some songs, and added some songs.   Stephen Schwartz thought that I should try to improve the rhyme scheme on a couple songs, which I did… because if Stephen Schwartz suggests you do something, you should do it, and he was right! It was an amazing experience which has made the show 10,000x better.
How would you describe this musical in a nutshell?
NB: Comic-Con The Musical is a comedy with original music that follows a trio of con-attendees on their path to friendship artistry, and inner acceptance
What inspired you to write this show? Why tell this story?
 LW: I wanted to write a musical with a Klingon and an Alien. Nick inspired me to make it take place at a Comic-con where all things Nerd can meet! 
NB: The inspiration has to be personal and for me, Con is a very personal experience. As a full-fledged nerd, the idea of setting a musical at a Con instantly appealed to me and there's a lot of me in the characters. One of the leads, Jason, is trying desperately to get someone to take and read his comic book. I have very specific personal experience with that.
What influenced the music for this musical?
LW: This particular show is very influenced by Film Scores for LOTR, Star Wars, Star Trek and then oddly enough James Bond. Everything I write is influenced by a gambit of other Musical Theater Composers, harmonies of 20th and 21st century classical composers, and choir harmonies.
 How do you write songs? Which comes first, music or lyrics?
LW: Music, then lyrics, then adjust the music, then tweak the lyrics. Then tweak the lyrics. Then tweak the lyrics.
How has the director helped you shape this show?
NB: It's been great for me to be half of the directing team. I think that Jessica Gardner, my co-director, gave us additional focus, especially moving from scene to scene. She came in with a fresh perspective, wasn't afraid to challenge anything that wasn't working for her, and the musical is tighter than previous versions now because of that.
What is your favorite moment in the musical?
NB: My favorite moment in the show is the song "A Nerd is a Fine Thing to Be." From its initial composition, it's always struck a chord in me and I border on tears when it's performed. It's personal and I wholeheartedly believe in the message. It's also fun to see our performers rap at the end.
LW: The Battle of Wits. There are so many parts to this starting with a Hip Hop version of the Captain Kirk Speech, moving to a Angsty love song and ending with a Bond style song of World Domination. It's just really fun.
What can audiences expect from Comic-Con the Musical?
NB: Audiences can expect laughs, heart, and songs that they'll be humming for weeks after. They also get the full Con-going experience, in a surreal sort of way. We want to provide a fun place to let your nerd flag fly. Since it's Fringe, we are also excited to include a Costume Contest mid-show!

TICKETS AND MORE INFORMATION:
Preview performance: June 2nd 2017 at 7:30pm
Performances on: June 11th 2017 at 1:00pmand June 18th 2017 at 7:30pm
Sacred Fools Theater, Second Stage
6320 Santa Monica Blvd, Los Angeles, CA 90038
Tickets: http://hff17.com/4333