REJOICE WITH SISTER ACT AT CABRILLO MUSIC THEATRE
REVIEW: SISTER ACT 
BY RYAN LUÉVANO
Based on the hit 1992 film comedy of the same name, the musical Sister Act is now playing at Cabrillo Music Theatre. The musical brings audiences an evening of rapture as the beloved story is amped up with even more singing, dancing and laughs. This California born feel-good musical premiered at the Pasadena Playhouse in 2006 and has since played on Broadway, the West End and all over the world reaching over six million people and grossing more than $200 million.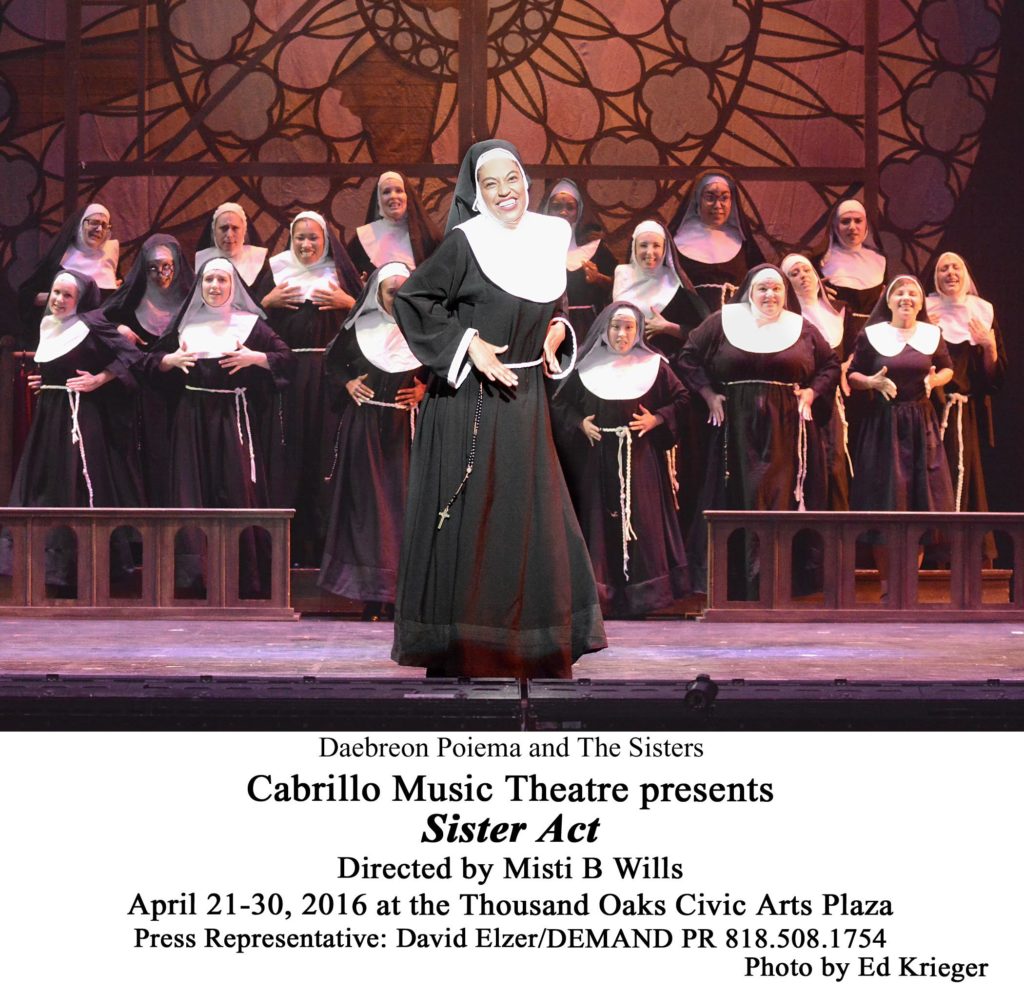 Staying faithful to the film, the musical follows the story of Deloris Van Cartier who witnesses a murder and is sent into protective custody at a convent where she shares her gift of music with the nuns that reside there. There is non-stop laughter and glorious music at every turn featuring Alan Menken's diverse score which includes gospel music, 1970s disco and contemporary musical theater songs.
Cabrillo has put together a stellar cast for this production—thrilling energy from the whole ensemble. Leading the cast as Deloris Van Cartier is Daebreon Poiema who, upon her very first entrance, never fails to captivate. The show opens with a bang as Daebreon, Terri K, Woodall, and Fay James perform the two nightclub disco numbers "Take Me to Heaven" and "Fabulous Baby", thereby launching audiences into the 1970s music scene in Philadelphia. Daebreon displays her comedic strength and vocal ability in the first act and pours her heart out in the second act—a splendid and well-rounded performance.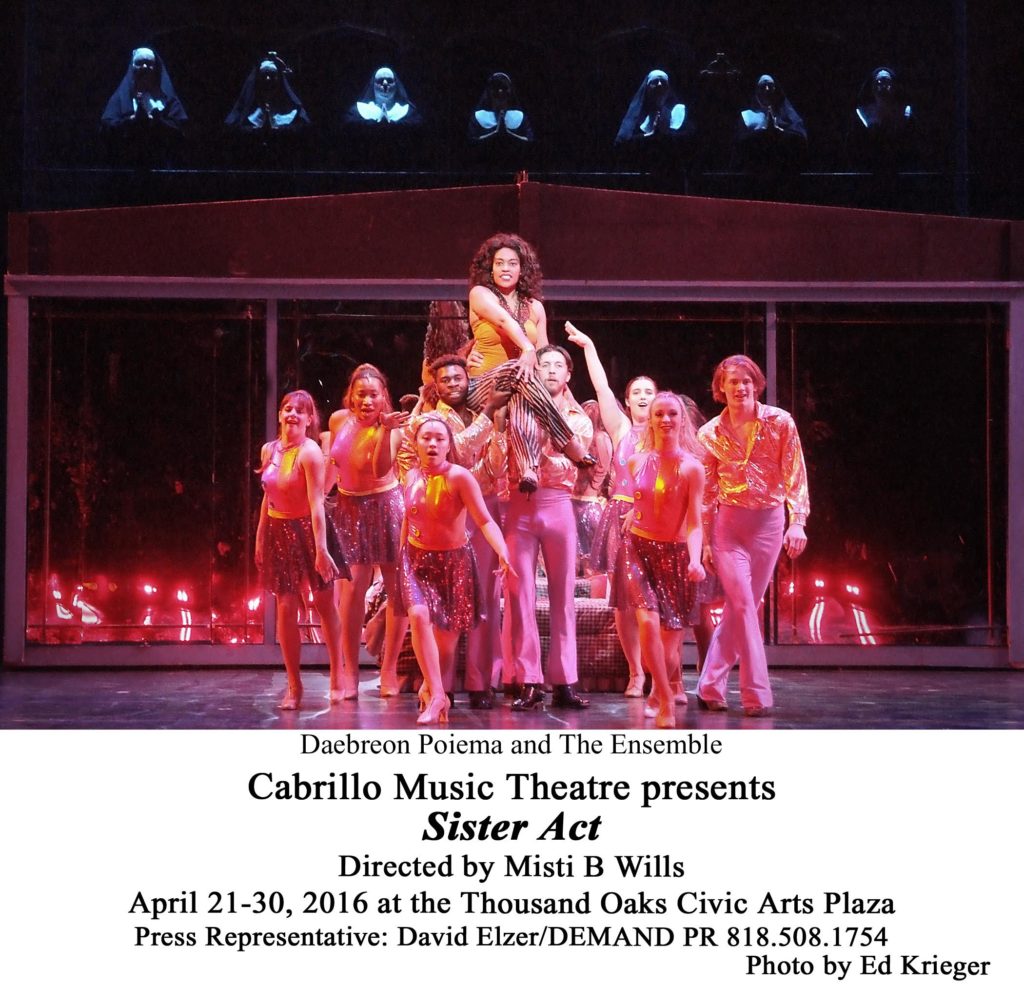 Adding to the theatrical nun-craze that's sweeping the nation with shows like Nunsense Sister Act, a show that's prompted six sequels, provides its share of nun-sational moments. When you have twenty-five of the best voices in town singing together on stage it's something spectacular—that's just what Cabrillo Music Theatre has done with their Sister Act. The voices of the nuns glisten in every number: "Raise Your Voice", "Take Me To Heaven", "It's Good to Be a Nun" and "Sunday Morning Fever" are the most fun audiences will have all night. Add to this Michelle Elkin's energetic choreography and you'll wish the Disco Queen of Angels Choir sang in your church every Sunday.
Among the nuns, Mother Superior (Debbie Prutsman) rises to the occasion as this hard-line nun. Her performance is strong and emotional; and her rendition of "Haven't Got a Prayer" is one of the most powerful moments in the show. Another audience favorite is Chelsea Morgan Stock as the petite Mary Robert—"The Life I Never Led" is a signature of Menkin's style and Stock nails it giving it everything she's got, leaving audiences eager for more while proving that some of the best things do come in small packages.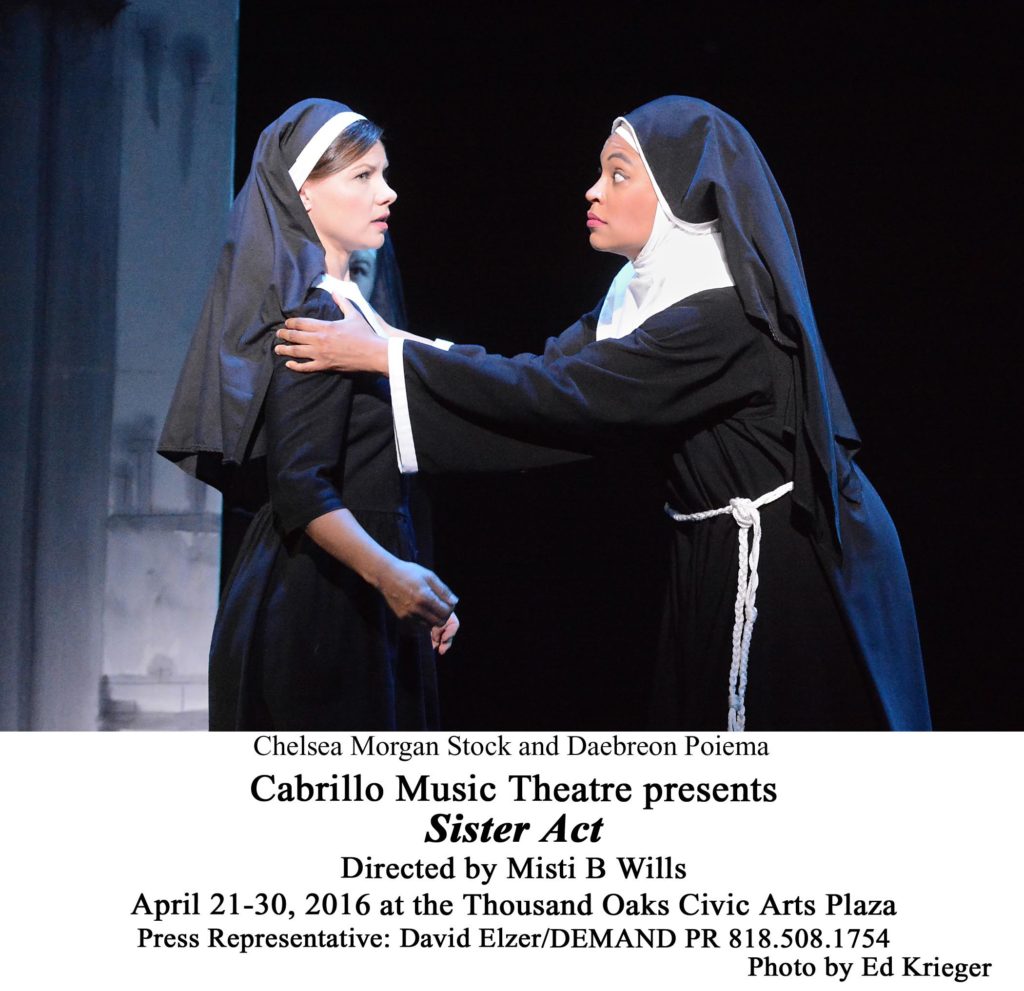 WHAT ABOUT THE MUSIC DIRECTOR?
Music director and conductor Kyle C. Norris brings out all the grooves and soul in this high-energy score. The orchestra plays with toe-tapping drive and precision that supports all the voices of this superb cast.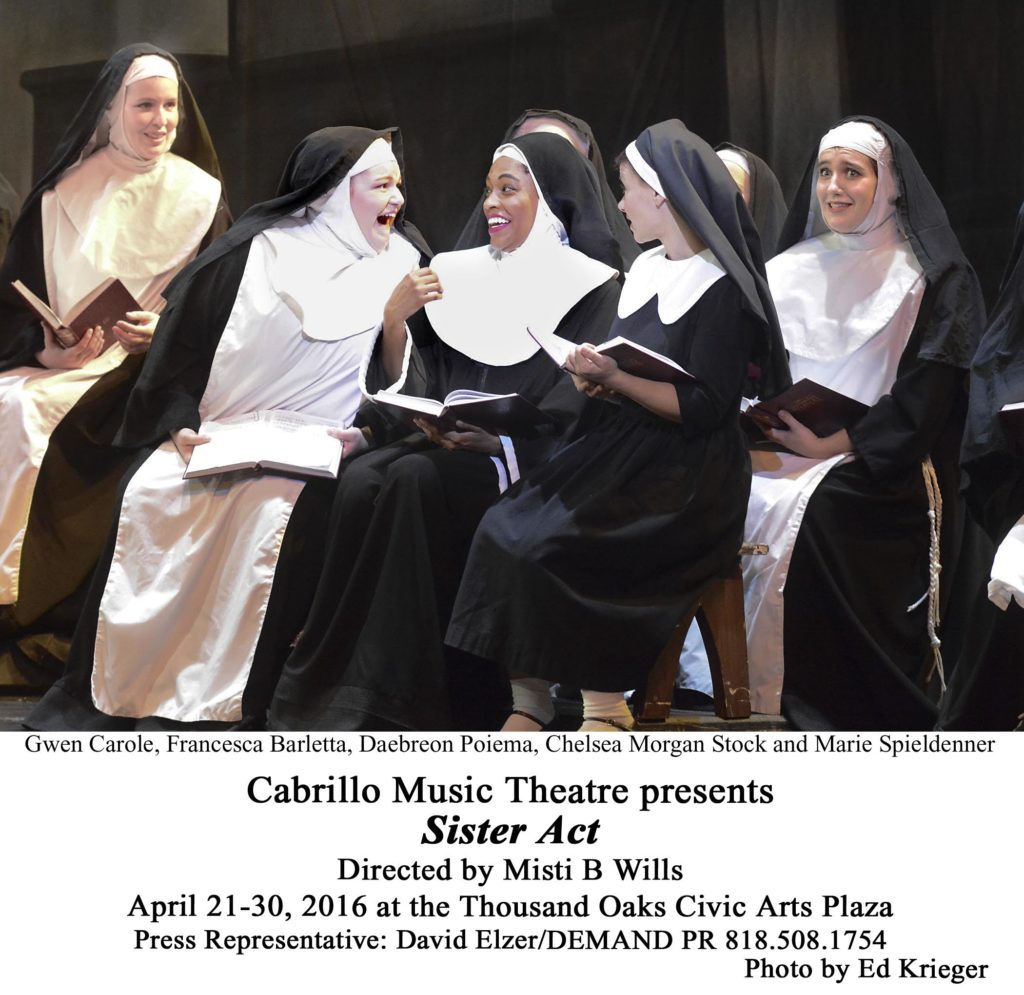 Come experience the excitement of Sister Act that's come from the screen to the stage at Cabrillo Music Theatre! Playing through Sunday April 30th, 2017. For tickets and more information visit: cabrillomusicaltheatre.com.