URINE GOOD COMPANY AT COEURAGE THEATRE CO.
REVIEW: URINETOWN
BY RYAN M. LUÉVANO
L.A.'s 'pay what you want' theatre company, Coeurage Theatre Company, returns with an extended run of the satirical musical Urinetown. The musical's story that centers on a town suffering from a severe drought certainly rings true to California's recent drought issues. Of course the premise here is magnified as society is forced to pay to use the amenities. Coeurage's raw, gritty and hilarious presentation of this musical puts the shows various satires of legal systems, capitalism, social irresponsibility, and bureaucracy front and center with big laughs at every turn.
What's immediately striking is the grungy urban playground for which Coeurage's Urinetown is set. Scenic designer Matt Scarpino and Hannah Welter use tarps, milk crates, graffiti and shopping carts to adorn the stage, turning it into a back alley in the slums. An old boxy television is also used throughout as guide for scene-to-scene locations completing the junky look of the stage.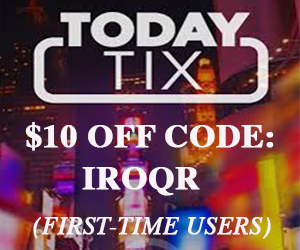 Add to the this industrial lighting by Brandon Baruch that is a mixture of standard stage lights from above, florescent light bars, flash lights, various work lights and light bulbs that sit on the floor in front of the stage—you rarely see lighting like this, it works well for this production. With this combination of lighting we get ominous shadows and bright florescent up lighting that colors the actors with dramatic sickly hues.
If you've ever seen Urinetown, you know that it makes for an uproarious night of theater, yet here director Kari Hayter maximizes many of the show's inherit satire elements. Hayter has made even the most minor characters interesting—using facial expressions, stylized movements, and unique line delivery—everyone is captivating. Jamie Pierce (Mr. McQueen) is a splendid example of this type of standout characterization with his sassy facial expressions and sharp movements; he's one audiences love to watch. The staging of the various numbers is also something to look out for ranging from sock puppets, Chorus Line parodies, to various dark vignettes.
The ensemble as a whole is strong, fully embracing the zaniness of the show, and together they make a forceful and robust singing ensemble—early in the show "Urinetown" is a feat of vocal prowess. Nicole Monet (Little Sally) is everything you want in this character; she's simultaneously aloof and aware with a strident voice that befits her character. Daniel Bellusci (Bobby Strong) is energetic and handsome in an edgy kind of way, with top-notch vocals—"Run, Freedom Run" is one of the highlights of the evening. Ashley Kane (Hope) is bubbling over with great characterization of this dim-witted naïve girl. Down to her vocal technique that flows between head soprano and nasal tone—she's nailed her part.
WHAT ABOUT THE MUSIC DIRECTOR?
Music director Gregory Nabours has put together a stellar ensemble of singers, who perform this contemporary score with ease and vitality. Pianist Peter Shannon masterfully leads the performance from the keyboard, keeping the show going from scene to scene with a focused drive.
Come see what the stink years are all about at Courage Theatre Company's production of Urinetown that's been extended to February 25th, 2017.

JANUARY 6—FEBRUARY 25
Friday & Saturday at 8pm
FOR TICKETS:
(323) 944-2165
THE HISTORIC LANKERSHIM ARTS CENTER
5108 LANKERSHIM BOULEVARD
NORTH HOLLYWOOD 91601