NEXT TO NORMAL: UP CLOSE AND PERSONAL
REVIEW: NEXT TO NORMAL
BY RYAN M. LUEVANO
In 2008 the concept of the musical Next To Normal about a mother who struggles with inflaming bipolar disorder and the effects that her illness has on her family was experimental to say the least. Yet after years of workshops the Next To Normal found its way to Broadway winning three Tony Awards as well as a Pulitzer Prize for Drama. Now this musical has returned to Los Angeles, this time at the 99-seat Pico Playhouse where this musical has found the perfect place to fully engage audiences. Even if you saw Next To Normal at the Ahmanson Theatre in 2010, you must experience this show in the Pico's intimate setting—here it's not about the big picture, but rather getting up close and personal with the lives of these characters.
What's immediately striking about this presentation by Triage Productions and SRO Productions is the surreal set design by Jeff Caston. He's created an arena that's functional, contemporary and impressive—four platforms, a wood background and the outline of a house that lights up with LEDs. And it's the use of inner lighting that changes color and flashes within the set is one of the most visually powerful aspects of the show.
Director Thomas James O'Leary direction is meticulous and engaging. As written the musical is a roller coaster of emotion and storytelling that O'Leary capitalizes on with his inventive staging of the musical songs and scenes. Next To Normal's structure is more akin to that of a play, than that of a musical and O'Leary is able to seamlessly take audiences between musical and dramatic territory making for a gripping evening through and through.
Michelle Lane (Diana) is a robust actress who gives audiences a deep and visceral performance. Lane is the quintessential mother that everyone can relate to, and then we see what her character goes through and the audience is right there with her. With the vocal demands of this show so high Lane is right on step offering moving performances of "A Light in the Dark", "How Could I Ever Forget?", and "Maybe (Next To Normal)".
Isa Briones (Natalie) is an impressive and raw young actress that at 17 years old brings so much realism and drive to her role. Every scene is chock full of subtext and teen angst—Briones didn't have to dig too deep for this character—her performance is natural is the best way possible. Additionally, her singing voice is the best dramatic singing you'll hear—"Superboy and the Invisible Girl" and "Maybe (Next To Normal)" are superb.
Harrison Meloeny (Gabe) is chilling and powerful. Meloeny is mesmerizing from start to finish—he maintains that he's only a vision in everything thing he does, from his movement to his trancelike stares. What's more, he is in full command of Kitt's challenging score that includes "I'm Alive" and "I'm the One"—he's got a strong and forceful voice that cuts deep into the drama.
WHAT ABOUT THE MUSIC DIRECTOR?
Taylor Stephenson put together a stellar vocal ensemble and a rocking band for this production of Next To Normal. Stephenson even leads the show from another room with his 4-piece band and skillfully maintains a balanced and together sound between the cast and the orchestra. The band in this show brings Michael Starobin and Tom Kitt's orchestrations to full realization; the violin book played by Lois Good is particularly beautiful.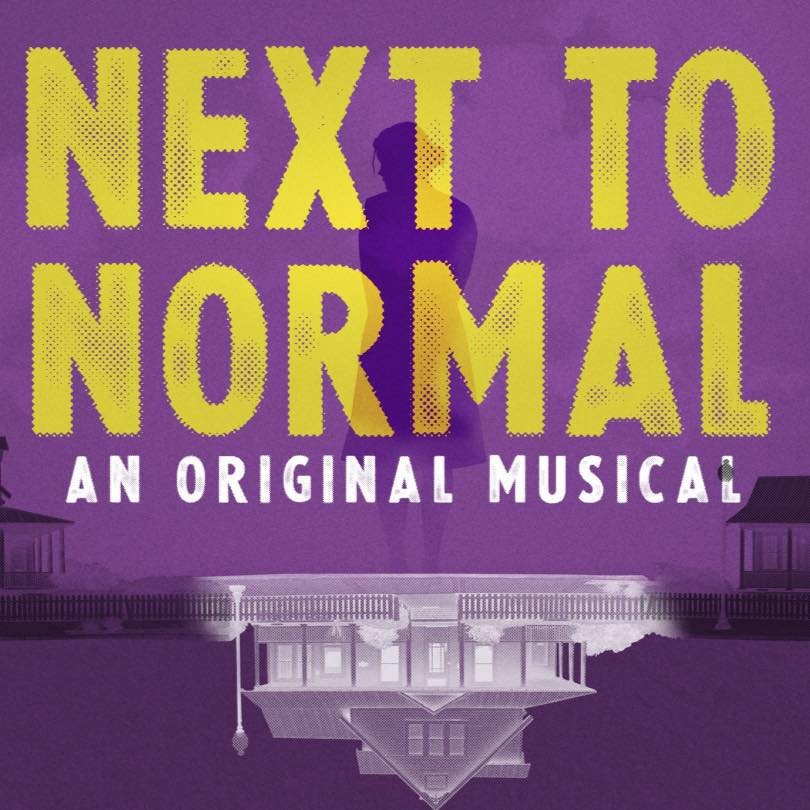 Come to the Pico Playhouse and experience Next To Normal up close—in this space the drama is immediate and the characters are as real as the person sitting next to you. Next to Normal runs from August 19 to September 25, 2016 (Fridays and Saturdays at 8 pm, Saturdays and Sundays at 2 pm). For tickets: http://n2nmusicalla.brownpapertickets.com .