ALIENS ATTACK HOLLYWOOD FRINGE
INTERVIEW: Erik Przytulski and Steve Troop
BY RYAN M. LUÉVANO
Last year the syfy comedy musical Alien Vs. Musical landed at the Hollywood Fringe Festival winning: Best World Premiere Production, Outstanding Songwriting and The Encore! Producers Award. Now creators Erik Przytulski and Steve Troop are back with a new and extended version of this blockbuster musical. In this Tin Pan L.A. exclusive Alien Vs. Musical creators will share the genesis, transformation, and future of their beloved alien musical that created so much buzz at last year's Fringe Festival.
How did you begin this collaboration? What was your inspiration for this show? Where did the idea come from?
S: We met in eighth-grade, and we've been friends ever since. We used to make all kinds of movies and stuff in high school. And as we grew up Erik began doing musicals and I started building puppets. We work really well together and have always talked about doing a professional production together. And about two or three years ago we started going to the Hollywood Fringe Festival, and every time we were like, "We gotta do something, we gotta do something". Two years ago we got out of a friend's show and Erik said, "A really good fringe festival musical's gotta have seven characters, would be in a confined space, and it would be about an hour long". So I started thinking about it. And then that weekend I got the Alien box set, and I said, "Oh, seven characters, a confined space. Let's do Alien the Musical!"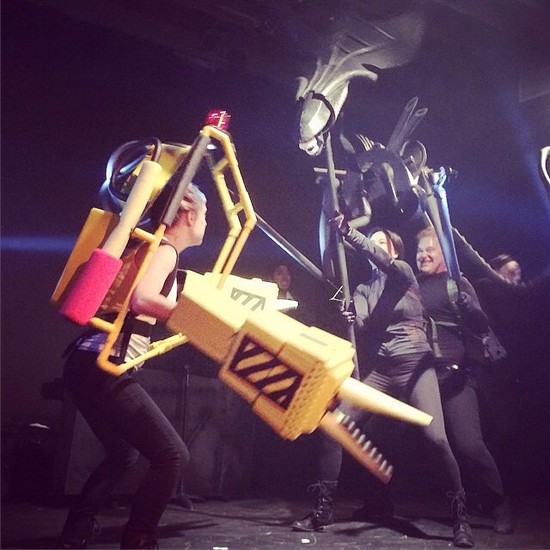 E: When he first pitched the idea I wasn't sold. I didn't like the idea. Also at this point musical theater was something new for me. Before that I was in bands and used to write pop songs. Of course when I mentioned it to my brother weeks later he thought it was a great idea. And my brothers really smart. So I met with Steve and said, "Pitch me this idea again". And for an hour and a half to two hours we were in the parking lot of Universal talking about this idea. And eventually I came up with, instead of Alien the Musical, Alien Vs. Musical. The original idea was that it we have aliens attacking a community theater production, and they still want to keep the show going. Eventually after taking a trip together out of town for a wedding we came up with an alternate idea whereby we created a land of musicals and musical theater characters live there and then aliens attack their world with the hidden agenda to want to be on Broadway.
How do you work together? What is your process?
E: Since I had more musical experience, I decided I would take the lead and we would both work on the book together. We worked on this together and decided what the story was going to be, an outline of how everything is going to move from scene to scene and where the songs would go. Then we put it all on a big board and placed the scenes and songs where they go. Then I took everything and distilled it into the script because the show is mostly music. The other interesting fact about the show is that Steve took over the presentation, the look of the show making the design, the puppets and turning them into real characters.
S: And during the actual rehearsal process, we chime in and doctor it as we go and that's the second wave of writing, that's we do as well.
When did you start writing AVM? How long did it take you to write the show?
E: October 2014 is when we had the conversation about creating the show. And around January is when we decided to commit to it, but we were both working on so many other projects so it wasn't until the week leading into April 1st when we had our writers retreat and came up with the story. Then we basically wrote the show after we cast it, scheduled our rehearsals and before that was before we even had a director. We actually didn't get our director until ten days before we opened. And we completed our script a week before we opened. It was a crazy process, and we owe it all to our director our cast and our crew who's we pulled off a miracle for us.
S: I also remember the first time we saw the show performed Erik turned to me and said, "I don't know if you know this, but we just witnessed magic".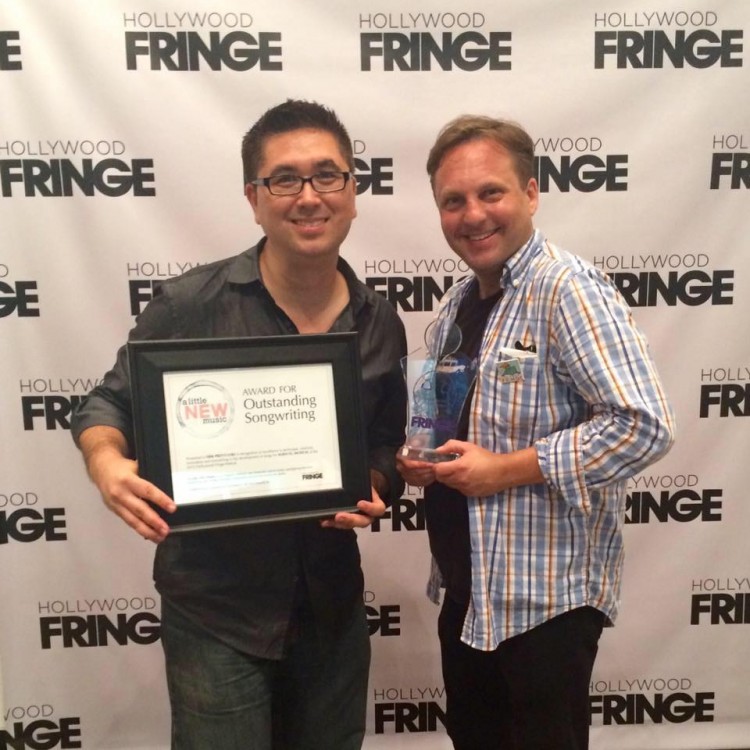 What was your reaction to the success of this Alien Vs. Musical at last year's Hollywood Fringe Festival?
E: I was very surprised, but at the same time I wasn't that surprised. But after the first show the preview show and it went really well and everything came together like magic. One of the things that Steve and I do for quality control is say, "If I were dragged to the show, we would enjoy it." And it's all just to make sure that we would have an entertaining experience if we saw the show ourselves. On paper when you hear about Alien Vs. Musical, it sounds like a terrible idea. It should not work, and yet for some reason it did work think that's because we didn't let up on making sure we were entertained first. We can't make everyone else love everything, but as long as we are behind it, I knew we had a success. I was surprised by our success, but the same time I knew that I loved it and I was just happy that they saw what we saw.
S: One of the things that Erik latched onto right away was that the show was true to both musicals and to Alien. What would happen if aliens invaded our town, who would rise up and what would happen? And our show is what happens when musicals get invaded by aliens.
What have you learned from your experiences with the show last year?
S: I know what I learned: Not to park under a eucalyptus tree. Last year a tree fell on my car during one of the Fringe performances.
E: I learned a lot a little things, like don't wait to last-minute, which obviously we didn't learn this time around because we did the same thing. Also to take control of things. There are things that happened last year that could've been avoided if we took more control over things. After seeing the success of Alien Vs. Musical, I realize this is my path now. Starting with the show and the other ideas that I have, I know I want this to be my career.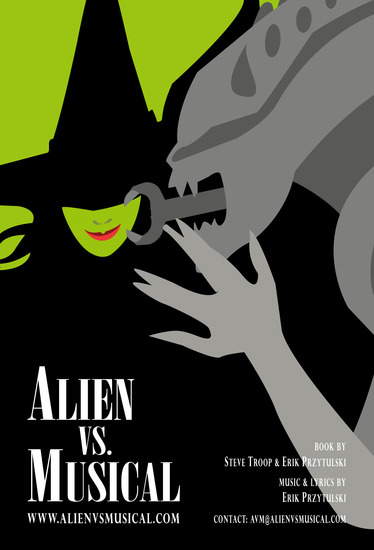 What changes to the show did you make for this 2016 version?
E: We extended the length of the show as close as we could to being a full 90-minute production. Also we were in a blackbox space before; so we wondered what it would be like in a larger space, with proscenium style stage. In this version we are going to see more of the land musicals, more characters and were going to raise the stakes of our main characters.
S: There were two sequences that were cut from the original run, so we're working to put those back. And I'm rebuilding everything. Last year everything was built with mostly found objects and cost only about $600-$700 for the entire show, now that we have a little bit of a budget because of the kick-starter campaign, so I'm rebuilding everything. It's bigger and better– all the things we wanted to do last year I'm able to do now.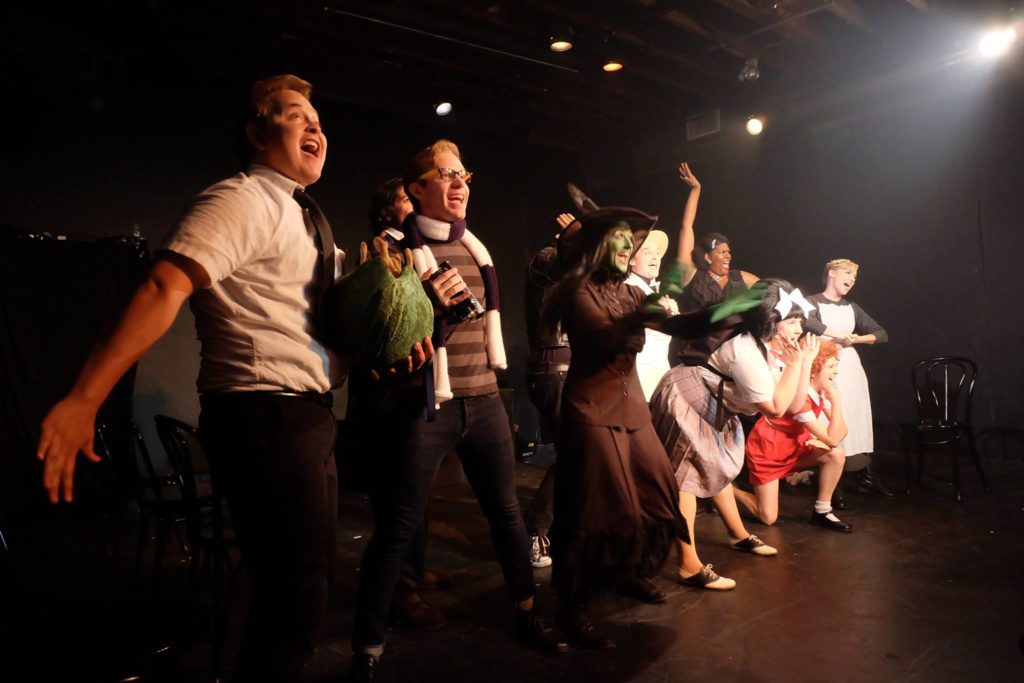 What excites you most about this show?
E: What excites me most about this show is its potential to be a 'real show', a show that has the potential to be an off-Broadway hit. That's what I see, and I don't think I'm too far off from believing that it's possible.
S: I'm excited to have worked with the some of same cast and crew as last year—it's always so excited to see what we've crafted on the page realized. And I'm also looking forward to the next project we do as the years go by.
What are your future plans for this show?
E: In August the show was picked to be part of the New York fringe Festival, so it's running throughout August over there. However, we are doing the short version, last year's version, 60-minute black box version with a different cast. And then after that the next step is to try to find investors be interested in helping us get it into an off-Broadway theatre.
Come and find out what happens when world of musical theatre m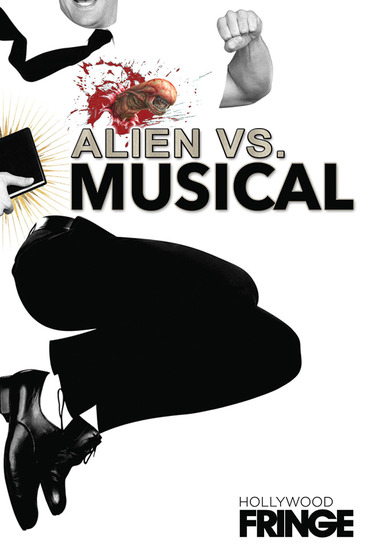 eets the most terrifying and destructive alien in all cinema history. Alien Vs. Musical plays at the Sacred Fools Theater Main Stage (1076 Lillian Way, Los Angeles CA 90038) for four performances and one preview.
PERFORMANCES:
Saturday, June 4th @ 2:30pm (PREVIEW)
Thursday, June 9th @ 7:00pm
Friday, June 17th @ 11:30pm
Thursday, June 23rd @ 8:30pm
Sunday, June 26th @ 6:00pm
For tickets and more information visit: www.hollywoodfringe.org