IMPROVISED WACKINESS TAKING STAGE
Interview: Kat Primeau and Molly Dworsky
BY RYAN M. LUÉVANO
Born out of a completely improvised idea Robot Teammate & The Accidental Party bring the collaborative musical Thug Tunnel to this year's Hollywood Fringe Festival. With a title like that the show's plot does not disappoint, this epic dystopian story relates what happens when the Earth's surface becomes uninhabitable and the human race is forced to survive underground in a criminal society known as Thug Tunnel. Where most musicals have a maximum of three creators, Thug Tunnel boasts eight creators who have worked together to create the book, music and lyrics of this show. With so many cooks in the kitchen, what's the recipe for a tasty musical dish? In this Tin Pan L.A. exclusive creators/performers Kat Primeau and Molly Dworsky discuss the process and inspiration for their new musical Thug Tunnel.
How would you describe Thug Tunnel in a nutshell?
M: It's a collaborative effort for a group of people throwing their passion into making beautiful hilarious art. Making audiences feel things and telling a good story.
K: I would describe Thug Tunnel as an epic explosive dystopian adventure comedy with very catchy musical numbers, characters and a lot of heart.
How did the idea for Thug Tunnel come about . . .inspiration?
M: Our group is a musical improve troupe and we've been working together practicing musical improve for about four years. And what we do in whatever time we are given by the theatres or venues we will put on a full musical on the spot, taking on whatever suggestions they yell. And their suggestion becomes the title of the musical. We had a monthly slot at the Improv Theater iO West about three years ago and someone in the audience yelled out 'thug tunnel' as a suggestion. And the team performed a 30-minute musical called Thug Tunnel and this musical became infamous with the team, we haven't stopped talking, thinking or laughing the silly or ridiculous characters and story that unfolded three years ago. And the show were doing for Fringe of the same title is inspired by the improvised wackiness that we performed three years ago.
How do you write a show with so many writers?
M: Last year we collaboratively wrote a musical as well for the Fringe Festival, it was awesome and we were really proud of it but the process was uncharted territory. We had never written something scripted together. It was really challenging last year. We had a writing team that came up with ideas together and then some of the members headed by one of the members were the writing team. They sat in the room for the course of hours over months and months and months and hope for this time travel odyssey that we ambitiously created last year. With so many creative, opinionated people working on a project, as you can imagine—it was hard, it was really hard. We all love each other so much, but it brought out our hate for each other too, it was very love-hate.
This year I volunteered not to be in the show, or have a small role show so that I could be more impartial, and have an outside perspective on the project. So I lead the group to give me all of their best ideas and because they're all playing roles, they give me the best of what they have, and I shape what they've given me into what I think is going to be a good story. I made an outline, I sent out to everyone, everyone gave me notes, I went back to the outline, and I redid the outline. Different people called me and we had hours and hours of conversations of what the story should be, and then another teammate would call me starting discussions sending the story in an entirely different direction. Overall it's a cycle it comes back to me I work through it, I give it to them they give me notes, it comes back to me, I work,  and back and forth it goes.
K: I just wanted to add that we're so used to creating musicals on the spot and thankfully we're so good at supporting and understanding what each other has to say. The songs of the show, the music and lyrics are written collaboratively with our music director, Sam Johnides, and with the characters who are singing the songs.
M: The way we've done the songs, because they're so personal, is that everyone writes their own song.
Is there a single director for this show?
M: For now I have been asked to direct the show. Last year there was a lot of confusion about who was in charge there were too many cooks, it was spread a little thin and it was hard to know the point person was, so again, since I have a tiny role in the show, I want to be the point person. So I've been directing the show. So I wish I had more times with the scenes and my friends so the actors to go deeper.
What are the biggest challenges in directing this show?
M: The time constraints. It's all on us, we don't have a script to explore, dive into and dissect. We started kind of late so the writing, and the music writing, and the conception of it all is happening on a very scrunched calendar.
What is your favorite moment in the show?
M: I got to be present for the writing of what we call, 'the call to adventure song' ["Shadow"], that song is sort of like the 'come on buddy, were going on an adventure' song. We made it a recording of the song so we would remember how it sounds, and in the background of the recording I'm just squealing through the whole thing because it's so delightful, catchy and . . .the song's on fire. I just love listening to it every time, I just can't watch them perform it without laughing with joy.
K: My favorite moment is our opening song. We call the opening song 'the environment song' where we set the tone for the rest of the musical. The group energy and the silliness of the choreography has come together in an explosive exciting way and I think it's really going to blow the audience away from the first moment of the show. I can't wait to feel the energy in the theater once they hear "Thug Tunnel".
What can audiences expect from your show?
M: They can expect to laugh, they can expect to be moved, they can expect to be delighted and surprised. And they will not be bored; they'll be entertained for an hour—a solid hour of entertainment.
K: Audiences can expect to see some truly original characters, a very unique world and to be tickled and moved within the same minute.
Do you hope a life for this musical after this year's Fringe Festival?
K: I think we'd like to develop the musical further and extend the production if given the opportunity. I would also love to get the studio recording of the soundtrack and be able to share the music with everyone after the festival.
M: Something interesting about people who gravitate towards improv is that we don't like to work on the same material for too long, or maybe I speak from myself because I love improv—it's about creating something new every time. I love Thug Tunnel, I think it's going to be wonderful and I thoroughly enjoyed the process of it and I'm also excited by the possibility of whatever else we can create. The process of creating is so exciting that it would be hard to live in one world for too long.
You can see Thug Tunnel at the Sacred Fools Theater Main Stage (1076 Lillian Way, LA, CA 90038). The show is family friendly (Ages 13+) and runs 55 minutes. Admission is $15 ($12 for Fringe participants).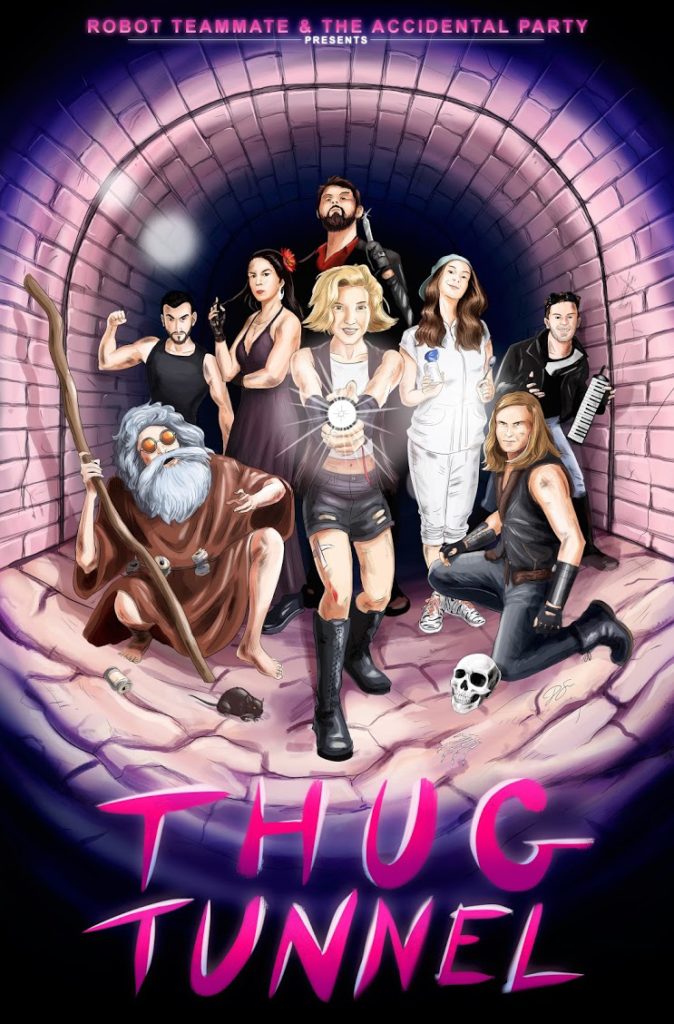 SHOWTIMES:
Thursday, June 09, 2016- 9:00 PM (Preview)
Friday, June 10, 2016- 11:30 PM
Sunday, June 12, 2016- 6:00 PM
Friday, June 17, 2016- 7:30 PM
Saturday, June 18, 2016- 4:30 PM
Sunday, June 19, 2016- 9:30 PM
Monday, June 20, 2016- 11:00 PM
For more information and tickets visit: www.hollywoodfringe.org