BROADWAY BABIES BEWARE
REVIEW: BROADWAY NOIR
BY RYAN M. LUÉVANO
One of the best things about the Hollywood Fringe Festival is that you can see a huge variety of theater works in all stages of creation from experimental, workshop, to a finished product. And time has proven that musicals always require more work-shopping than any other due to the difficulty of finding the right fusion and balance of book, music and lyrics. Whatever the case may be, a musical's first public workshop is always an exciting and sacred step in its development.
At this year's Fringe Festival creator (music, lyrics, and book) Daniel Sugimoto brings us Broadway Noir an musical romp in 1940's New York following the investigation of two detectives in search for a killer who's murdered a musical's leading lady—why would anyone do such a horrible thing?
The Three Clubs makes the perfect gin joint to host this neo-noir musical—a classy old-fashioned dive bar with patent leather seats and doors, with a small stage space in the back. Once more, director Julia Lisa has capitalized on the show's location by using the entire room for the actors to roam—the bar scenes at the actual bar are especially fantastic. Lisa further uses the contrast of light and dark natural to the space to give us visual elements commonly associated with noir film. Additionally, all the action of the musical moves at a steady pace, and the actors are clearly motivated in every scene—all the marks of a top-notch director. One of the best moments in the show is the use of a tiny shoebox diorama to represent an apartment that the detectives search in front of the audience—absolutely clever.
The cast of Broadway noir includes wide spectrum of talent as some actors standout as more experienced musical theater actors, while others have drama and comedy as their strong points. One of the strongest voices is the show is Lauren Byrd (Lucy Shapiro) who shines in every scene and whose delivery of the music is both dramatic and enjoyable—"My Final Curtain" is easily one of the best numbers in the show. Nathan Onrdacek (Roger Mitchell) performance is as dramatic as it gets he's fully immersed into his world in everything he does and even gets to sing in "Then They're Gone" in act two—he a detective right out of the movies and he can sing too.
With Broadway Noir there is no shortage of thrilling comedic actors. The first of which is Adam Lau as the flamboyant English producer Richard Fox. Lau not only skillfully delivers the wordy patter song "It's A Business" but he keeps us laughing along the way as he floats all over the room like a stray deflating balloon—every scene with Lau is comedy gold. In this show there are no small parts, which is proven by the small but mighty actress Arielle Fodor (Stella/ensemble). Fodor is featured in only one short scene in the first act and in that short time she fully captivates the audience and brings them big laughs—Fodor and Lau are a gas, make a show about them and you've got a winner.
Broadway Noir sets up the noir world perfectly, there's dim lighting, period costumes, 1940s slang, a beautiful muted solo trumpet and a story about detectives solving a murder . . .then the music begins and we're yanked out of this fantastic world to the present with upbeat pop songs. It was certainly a brave experiment to attempt to use contemporary pop music to tell 1940s noir tale, but in the end it's a battle between pop and noir—and I want to hear only a smoky jazzy score to tell this story. Including Matt Von Roderick on trumpet is a wonderful addition, his sweet tone and tough style fit the period so well, but once the songs start, even he sounds out of place.
Beware Broadway babies there's a killer on the loose in Broadway Noir and no one is safe—come to the Three of Clubs, have a whisky and enjoy the workshop of this new musical that even at this stage has so much going for it.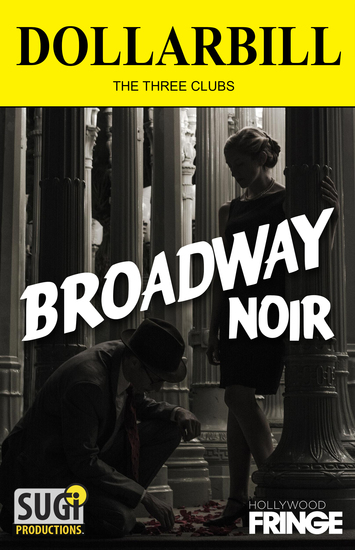 Performances Dates:
Thursday, June 2nd @ 6:15 PM
Tuesday, June 7th @ 9:45 PM
Friday, June 10th @ 7:45 PM
Thursday, June 16th @ 6:15 PM
Sunday, June 19th @ 3:45 PM
For more information and tickets visit: www.hollywoodfringe.org
PRO-TIP: Dress cool, the theater area of the Three of Clubs is not air-conditioned.