INVISIBLE: AN 80s NERD RAGE MUSICAL
INTERVIEW: DAVID ORRIS and DAVID HOLLINGSWORTH
BY RYAN M. LUÉVANO
Remember all those classic 80s films where nerds get super powers: Teen Wolf, Zapped, Teen Witch, The Toxic Avenger and Hunk? Well the new musical Invisible (book by David Hollingsworth and lyrics and music by David Orris) based on H.G. Wells The Invisible Man carries that tradition to the stage with this one-of-a-kind 80s nerd musical extravaganza. Produced by New Musicals Inc. (in cooperation with 3-D Theatricals) this new musical is complete with a fun 80s score and is set to have two staged reading this month. The concert readings will be co-directed by 3-D Theatrical's Artistic Director T.J. Dawson and NMI's Artistic Director Elise Dewsberry; with music direction by Ron Barnett; sound design by Julie Ferrin; and puppet design by Steve Troop. In this Tin Pan L.A. exclusive creators David Hollingsworth and David Orris discuss their nerd rage musical from page to stage.
What was your inspiration for this show? Where did the idea come from?
DH: It was part of the process when we were taking our course at New Musicals Inc. where one of our projects was to come up with a pitch for a show that fit in the parameters set by NMI. I came up with this pitch over the course of the weekend and it fit all the parameters. I decided to adapt something from the public domain, and I wanted to do something in Syfi because that was the wheelhouse I wanted to work in. So I took H.G. Wells The Invisible Man and decided that it's actually a book about nerd rage. From then on I decided to look at it through the lense of one of those of 80s nerd movies subgenres where people are bestowed with supernatural powers for the very fact that they're a nerd. And I thought this fit creepily well, so I decided to turn H.G. Wells The Invisible Man into one of these 80s teen sex comedies, like Zapped, or Teen Wolf.
DO: When David was giving the pitch my head was exploding. I'd already loved what he'd done in the workshop, we came together afterwards and talked and said, 'I like what you do, well I like what you do.' I always say, 'I know I can write a show if I can hear music' and while he was giving the pitch I instantly started hearing music.
How did you adapt the H.G. Wells classic The Invisible Man as a musical?
DH: The structure very loosely does kind of fit, also in a bizarre way. Obviously there are some names that are borrowed: the main character's named Griff after Griffin in the original, his best friend who eventually betrays him is named Kemper, which is loosely based on Kemp the scientist. And the whole concept of that betrayal turning into a reign of terror, we have a song called "Reign of Terror" and it's a turning point within the story, which is based very specifically on a passage from the book when Griffin promises a reign of terror on this small British village. But other than that Invisible probably borrows more from John Hughes than H.G. Wells. The concept of nerd rage is one that we've all kind of felt, or at least a certain segment of the population has, and that's the real through-line.
DO: That's part of what appealed to me about it. If you read the book it's actually a very dark story. My personal opinion is that the main character in The Invisible Man novel is kind of a dick, but there's something really comedic about that in a modern context that it's immediately funny. And there's something in there that's served our show.
Why set this story in 1988?
DH: When I was imagining how one would translate this into a musical, the biggest inspiration to me came form things like Zapped, Teen Wolf, again these weird things where for some reason nerds become magical. And all of that was during the 80s, and there was this renaissance of nerd-sploitation, and I knew that was the perfect wheelhouse to channel this story of this scorned nerd. In our story of course he's redeemed. The real golden era of high school nerds on film appears to be the 80s so that's where I found the inspiration.
Does the music for Invisible match the time period? What's your score like?
DO: Part of the attraction for me was that I got to sort of amalgamate the 80s pop rock flavor into the score. Throughout the score there are endless nods to pop rock songs of the era. The 80s music nerd fan will have a treasure hunt to listen for in this show.
What messages are at the heart of Invisible?
DO: While it's a broad comedy and we want the show to be a lot of fun, at it's heart it's a show about what it truly means to see another human being. We live in a culture that has spoken for decades about the American dream, and I'm all for that, but I think there's something that's creeped into the way we live and perceive the world, that winning mean somebody else loses. And there's something in the ethos of the show that is: I can win by helping you win, I can be loved by not making it about me and seeing you, and thereby creating more connection.
DH: Another theme that snuck in though the back door is throughout the show there are multiple characters who tend to be on the nerdy-er end of the spectrum who relate to other people through very roundabout ways; whether it's trying to spark up a romantic relationship by playing the best friend . . .there a character who based of the premise of: what if Duckie in Pretty in Pink grew up and was still pathetic? And the main character Griff and Kemp are trying to spark up romantic relationships with the popular girls by figuring out a formula to present themselves as attractive. And ultimately what works is when the characters are honest with themselves and with each other. So the message that I tried to get through is that's the only way to interact with people, you can't use a cheat code on people.
When did you start writing Invisible? How long did it take you to write the show?
DH: It's taken four years. We outlined it over the course of a summer/wrote a first draft and then did song spotting over a couple months. From pitch to workable first draft was about a year, and then it's been about three years since then.
How has New Musicals Inc. helped you shape this show?
DH: They've be crucial to the entire process. All of our initial readings have gone through them; they've provided indispensible dramaturgical advice. We had a whole sub plot about a designer drug called Morlock that is no longer in the show thanks to NMI. If for no other reason than David Orris and I met there, they're the reason the show is happening.
DO: For me as a writer was learning everything I didn't know on the Core Curriculum, I went is as a pop song writer thinking 'you just write the songs and build a story around it'. But it's about the amount of things that you don't know that you don't know that are really important for you to find out. That has been their greatest influence for me . . . and of course meeting David Hollingsworth.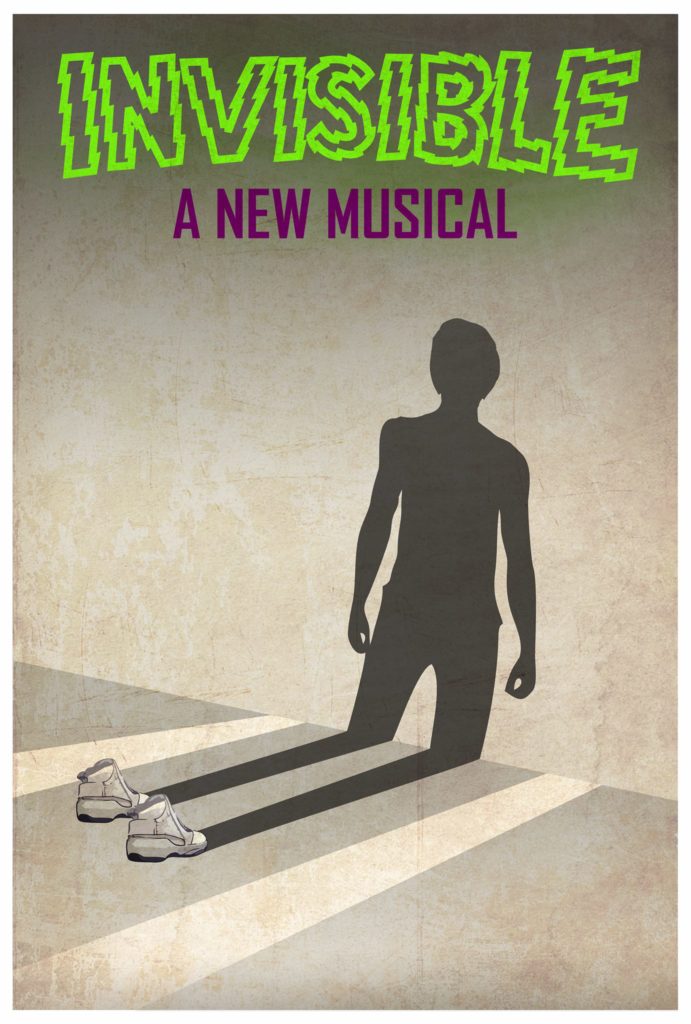 There are only two chances to see this new 80s musical, Monday, June 6 (8:00pm) at the Colony Theatre in Burbank; and Tuesday, June 7 (8:00pm) at the 3-D Theatricals Rehearsal Hall in Anaheim.
The cast is set to include Michael Thomas Grant (For the Record: Dear John Hughes, UMPO: Clueless, UMPO: Scream) and Daniel Amerman (Arrested Development, The Office, Glee, CSI:NY, Awkward, and the ABC Family prank show "Freak Out") as the high school nerds, Griff and Kemper who brew up a potion intended to make them popular (but which accidentally turns Griff invisible). Ashley Argota (The Fosters, Girl Meets World, True Jackson, VP, The Lion King on Broadway) is the goth girl, Hemlock; and Jordan Goodsell (Frozen: Live at the Hyperion) is the jock Chetwick. The cast is rounded out with Christie Brooke and Natalie MacDonald as the twins Melrose and Madison Lindeborne; Luke Klipp as Mr. Reeves, and Luke Matthew Simon and Daniel Mills as the flunkies Craig and Jackal.
Visit www.nmi.org for tickets and more information.