IF YOU LOVE 'GAME OF THRONES'. . .
INTERVIEW: LAURA WILEY
BY RYAN M. LUÉVANO
America's favorite show to binge watch, Game of Thrones is taking the stage in Winter is Coming: A Musical Parody, produced by Make Believe Stage Productions, at the Hollywood Fringe Festival this June 2016. This original musical farce follows the Starks, Lannisters and Targaryens through Season One/Book One of Game of Thrones and includes such songs as "I'm in Love with my Twin Sister," "Wine and Whores" and the title song "Winter is Coming".
The creator behind this project is Laura Wiley, composer, writer and music director. Wiley has played for several cabaret shows, including Bombshells and their Christmas charity event hosted by Jai Rodriguez and is a former accompanist for Don't Tell Mama. She is joined by Jared Tyrel Pixler and David Evan Stolworthy (Director/Producers/Writers/Additional Lyrics) who created the now touring show The Video Games from last year's Hollywood Fringe Festival.
Here's my Tin Pan L.A. exclusive with the woman who's bringing this show to the fans in this highly anticipated musical.
Where did you get the idea to create this musical?
I got [the idea] from my producer. I was complaining because I couldn't get the rights for any of the musicals I wanted to do this year. So he said, 'Why don't you just write one?' And I kinda scoffed at him, 'Yea, I'll just write a musical. What would I write a musical about?' He said, 'Well, what do you like?' And I said, 'I don't know, I've been watching a lot of Game of Thrones lately.' And he said, 'Why don't you make a Game of Thrones musical?' At first I thought it was crazy, and then maybe a couple of minutes later, I thought about it and said, 'Oh my God, that's brilliant!'
How long did it take you to write the show? Where did you start? Music, lyrics, or book?
[The music] just came to me, I went home and wrote my first eight songs, I stayed up all night until 6am. It just came pouring out of my head. I normally write just the hook. For example, we had a song idea 'what if we sing a song about Jaime and Cersei?' "I'm in Love with my Twin Sister," and as soon as I said it, I heard it. . . that's just how my brain works. If I hear what I need the hook to be, I can write the melody for that hook.
Will people who are not familiar with Games of Thrones understand all the humor?
They will. The jokes are pretty in your face, it's an obviously funny show. And we do explain everything that happens so nobody's totally lost. I will say that there are some secret jokes for fans. There are a lot of insider things only insider fans will get. So you have to be a nerd to get some of the jokes. For the most part you can get the musical without having seen the TV show.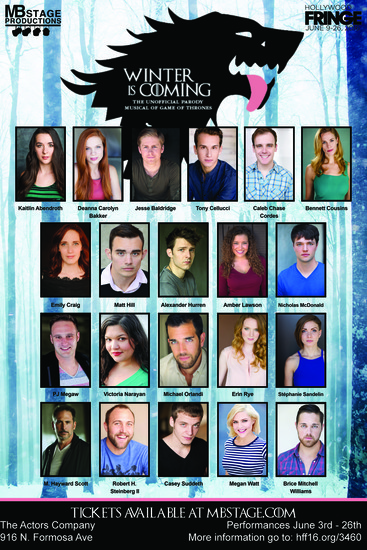 How did this show get to this year's Hollywood Fringe Festival? What was that process like?
I went back to work with my production company from last year, they did The Video Game, so we had already worked together. They were ready to produce my musical from the start. Once I had told them that I had written it, and presented it to them, they did all the groundwork and they helped me put all the bits and pieces together.
How is it working with your team of producers? How have they helped throughout the process?
They've helped in so many ways. They helped a lot with the script. I would send them a copy of the script and they would send it back totally rewritten, and then I'd send them more scenes and then they'd send those back. They were a huge part of the writing process as far as the book . . .I'll be honest, when we first started; there was a lot of discord. Arguing about timeline, how we wanted to do it, about curse words. We got all of our fights out, and now that we have it all together, we're such a committed family. I can safely say that the two producers are my two best friends at the moment, I spend all my time with them, they are my life. I kinda liked those debates in the beginning, they were fun.
Given that the show was put together so quickly; would you consider the Fringe this year as a public workshop of your show?
I would say it's a very public workshop. And really what we want to do is test out this brand because if this is a hit and people like it, I'll write the second part. I wanted to write season two, but we wanted to see if there's a real audience for this kind of Game of Thrones musical.
What are some of your favorite musicals and influences?
My favorite songwriter is Jason Robert Brown. I feel that the way he tells stories is very much the way I like to tell stories. In that spoken, almost telling the story . . .a lot of people use metaphors, like Stephen Sondheim uses a lot of metaphors, a very lofty way of writing lyrics. Whereas Jason Robert Brown is: this is what I'm thinking, this is what I'm feeling. He's a big influence of mine. And I would say comedy-wise and just the way I write is very much like Avenue Q, very poppy, catchy, silly—I like all that stuff, Book of Mormon—anything that sort of parodys and is fun.

What is your favorite moment in the show?
Honestly, my favorite character to write for in the show is the character that everybody loves to hate, which is Joffrey Lannister. He's so evil and I think when you're doing a parody an evil character is just the most fun. So one of the things we decided to do is to have him chop off Ned Stark's head. So before he does it there's a very smug tap number as he's dancing with the sword—and that is probably my favorite moment of the entire show. It's all the horror going on around him and he's smiling like the creepy little imp that he is. I'm very, very proud of our Joffrey—he's fantastic!
What can audiences expect from your show?
They can expect that it's going to be very racy, so this is not a family show. There is sex and violence—this is a show for the fans. With parody musicals, I feel that people take a lot of liberties. We did not. We kept the plot very similar to the original season one and we kept the jokes and the characters related to the show. The characters are there; they're parodied, but they're there. If you are a fan of the show, you will love everyone that we wrote because we wrote them to be just like the show. It's really a show for fans—that was my biggest goal. If you love Game of Thones you won't want to miss this show—you will never find a show with more blood, sweat and tears from a fan. Also, I can guarantee that these songs will get stuck in people's heads.
Winter is Coming: A Musical Parody begins previews on June 10, 2016 at the Actors Company in West Hollywood, and runs from June 11 through June 26th.
For more information and tickets visit: mbstage.com.