OVER THE RAINBOW IN A BARREL
REVIEW: THE BOY FROM OZ, CELEBRATION THEATRE
BY RYAN M. LUÉVANO
In 2004 The Boy From Oz starring Hugh Jackman ran on Broadway for 365 performances before it closed at the end of Jackman's contract, and after he won Tony Award for Best Leading Actor in a Musical and the Drama Desk Award for Outstanding Actor in a Musical. Since then, the show has not be widely produced in the US until now as the 54-seat Celebration Theatre in Los Angeles mounts the official West Coast premiere ignoring the shadow of Hugh Jackman that's vexed the larger theatres.
This West Coast premiere of The Boy From Oz at Celebration Theatre proves that there's so much magic in intimate theatre and how important preserving this kind of theatre is in our community. Director Michael Shepperd is the man behind the curtain, the wizard of this fantastic production. Shepperd has paired down a cast of forty to twelve fabulous players focusing on the essential storytelling elements of his big Broadway show and making it fit in their space. What you get in this production is a beautiful and poignant recounting of Peter Allen's life journey about how the ones he's loved and lost were so essential to everything he became.
The choreography by Janet Roston is the most thrilling and high-powered dance I have ever seen in a space this size. Roston's use of space and movement is smart and impressive, once the dance begins the walls expand with each and every move. You get the sense that you're watching this on a stage ten times as large. "Love Crazy," "She Loves To Hear the Music," and "I Go To Rio" are some of the best dance moments in the show.
The costumes by Michael Mullen and the lighting by Derrick McDaniel are two elements that transport the audience to time and place spanning from the 40s to the 90s. Mullen's costumes match every character and time period, everything fits perfectly and the colors are vibrant and appropriate. McDaniel's lighting takes us from a smoky cabaret to a New York apartment, to a big stage in Australia—it sets the mood and tone so perfectly.
The main characters in this musical are based upon real-life icons, and what you get are actors who look the part, know the mannerisms, but still bring their own interpretation, so we never get caricatures. Andrew Bongiorno (Peter Allen) is sexy, charismatic and dynamic, he takes us through every emotion, yet never fails to entertain. He sings through all the songs with a strong voice, touching ballads, invigorating pop songs and some razzmatazz numbers too. He's a consummate performer who knows the theatre and always lets his audience know that it's all for them—a mesmerizing performance.
Allen's lover Greg played by Michael Mittman is charming through and through, his time in the story, as brief as it is, is rich and emotional, "I Honestly Love You" is on the most heartrending moments in the whole show. Judy Garland played by Bess Motta is absolutely divine. Motta offer audiences glimmers of Garland in everything she does, her rendition of the song "All I Wanted Was the Dream" is Garland and Motta all wrapped in one.
Liza Minnelli (Jessica Pennington) is superb, an honest Minnelli portrayal showing Minnelli's development through the ages—we come to understand everything Minnelli is going through. Pennington's rich voice shines in the duets with Bongiorno "Come Save Me," "I'd Rather Leave While I'm in Love" and "You and Me". Peter Allen's mother Marion played by Kelly Lester offers a sincere and moving performance in all her appearances throughout the story, finally singing towards the end in "Don't Cry Out Loud," showing her sensational voice in this climatic song. The dance ensemble that recurs throughout the show, Erica Hanrahan-Bell, Chelsea Martin, and Shanta' Marie Robinson are dazzling movers in every number—sharp, sexy and energetic.
WHAT ABOUT THE MUSIC DIRECTOR?
Bryan Blaskie dexterously leads the three-piece band and cast from the keyboard for a grooving and high-powered musical show. The band here is precise and balanced, an exciting compliment to the music. Blaskie has prepared all the musical elements to perfection—from cast to band, the music is stellar. Noelle Fabian as the saxophone/clarinet player is especially engaging as the only wind player in the band—her kinetic sax grooves and warm clarinet notes add an enhancing texture to the score.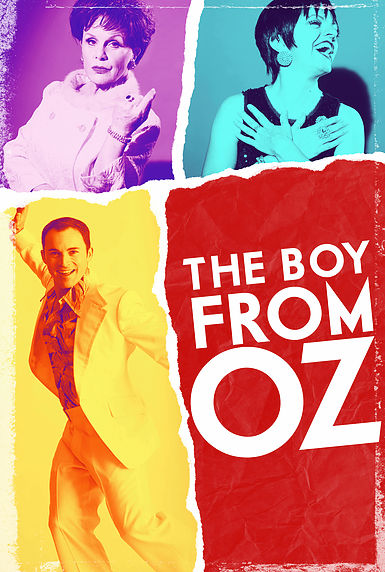 The Boy From Oz at Celebration Theatre is a fresh revisioning of this once Broadway blockbuster, now a fine example of the power that intimate theatre can bring to a show and an audience—storytelling at its finest. The Boy From Oz runs from April 29 through Sunday, June 19 at the Celebration Theatre's new home, the Lex Theatre, 6760 Lexington Ave. in Los Angeles. For tickets and more information please call (323) 957-1884 or visit www.celebrationtheatre.com.