OPEN THE DOORS FOR INTERNATIONAL CITY THEATRE
REVIEW: CLOSER THAN EVER
BY RYAN M. LUÉVANO
International City Theatre opens its 2016 season with the updated musical revue Closer Than Ever by Richard Maltby, Jr. and David Shire. The revue is a collection of songs that are presented in a continuous manner and explores a multitude of issues in the modern world. These issues range from friendship, unrequited love, aging, parents, and life choices. Unlike a strict musical that is held together with a plot and a consistent set of characters, each song is its own story, told by a new character taking audiences song-by-song into the Maltby and Shire songbook and into the point of view of the individuals facing these familiar circumstances.
Given the "bookless" structure of Closer Than Ever the role of the director is of the upmost importance. Veteran director/choreographer Todd Nielson rises to the occasion and weaves all the songs into a cohesive program that is a ride worth taking. Nielson treats each song like its own tiny moment, successfully painting a picture visually and dramatically. With each song, you get the sense of an individual character—where they're coming from and what they want. Additionally, Nielson sets-up beautiful anchor visual moments throughout the show that are dazzling to watch. In "Back On Base", he brings the bass player on stage to accompany Katheryne Penny, evoking a jazz club vibe; in "March In Time" the staging is energetic and fun—with only four actors they completely fill up the stage; and in "Three Friends" we get exciting showbiz choreography reminiscent of Busby Berkeley. The running thread in the show is the concept of doors which is physically represented with a faux door and the use of doors in the clever set designed by Stephanie Kerley Schwartz.
The old-fashioned revue format can take a while to get used to for audiences who are accustomed to musicals with through line stories and, for me, the show finally starts when Katheryne Penny sings the comical "Miss Byrd." Penny's performance here and throughout is absolutely enthralling—her voice beams with warmth and kinetic energy in her belt notes. She shows her versatility in contrasting numbers like "Back On Base" where we hear mellow jazz tones and cool scat moments. Another outstanding voice is Adam Von Almen who shows his vocal warmth and agility in many of his songs especially "One of the Good Guys" where he concludes with a final high note delicately uttered in quiet sustain. The biggest voice in the group is Kevin Bailey whose powerful voice shines towards the end of Act II in the touching song "If I Sing". Valerie Perri is a beautifully contrasting voice and personality, her husky voice is strong and bright as heard in "The Bear, The Tiger and The Mole" and "It's Never Easy/I've Been Here Before."
WHAT ABOUT THE MUSIC DIRECTOR?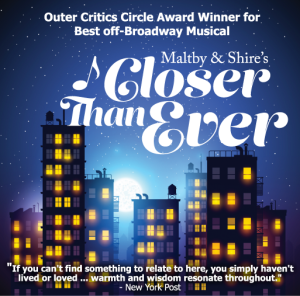 Music director Gerald Sternbach brilliantly accompanies the show, prepares the cast vocally, and even sings in "Fathers of Fathers." Sternbach's playing is enthusiastic and precise; you get the sense that he's enjoying himself the whole time. Brad Babinski is exquisite on bass, especially in "Back On Base" where we hear his jazz chops truly shine.
Closer Than Ever runs Thursdays, Fridays and Saturdays at 8 p.m. and Sundays at 2 p.m., Feb. 12 through March 6. For tickets and information visit: ictlongbeach.org.