ALNM SPECIAL TEN IN HIPSTER TOWN!
The Acclaimed L.A. musical Theater Series Returns For Its 10th Concert
BY RYAN M. LUÉVANO
A Little New Music celebrated its tenth edition at The Rockwell: Table & Stage on Tuesday December 8th 2015! With so many new musicals sprouting up in L.A. how can anyone keep track? That's where A Little New Music comes in as they serve up new musical theatre works and songs to the public providing a taste of musicals currently in production or in progress. Hosting the tasty smorgasbord of new songs was the witty John Tartaglia, who some may remember as Pinocchio in Shrek The Musical and the Tony nominated roles of Princeton and Rod in Avenue Q.
TO SEE FULL ALBUM CLICK HERE!
For Your Musical Radar: World and West Cost Premieres:
Among the night's performances there were four premieres of songs from new shows that you must keep on your radar.
The first song was "Jackie's A Sweetheart" from the musical The Hipster Sister (L.A. premiere), book, music, and lyrics by Andy Roninson. The song was performed by Marie-France Arcilla whose powerful voice easily maneuvered this melodramatic and wordy song. [FAVORITE LYRIC: "You can guess who picked up all of the poo"].
Jimmer Bolden performed the second song, "Melancholy Moon" from Mercy Parish (world premiere) music and lyrics by Mitchell Glaser. Bolden's rendition of this bluesy Gershwin-esque song was realized with his deep, and strong crooner voice that soared till the very last note. [FAVORITE LYRIC: "Bring her back soon . . .to me"].
The following song was "Better the Second Time" from The Guide To Being Single music and lyrics by Alexi Kovin (West Coast Premiere). The performance by Cooper Howell and Tiana Okoye brought the house down—their voices were sweet and furious, they rocked out with an infectious energy. [FAVORITE LYRIC: "The sex gets better the second time around"].
The final song was "Ignite" with music by Andre Prevost and lyrics by Chelsea Sutton, from the show Wood Boy Dog Fish currently running at the Bootleg Theatre until December 20th (Tin Pan L.A. Recommend!). This dark, abstract, slow rock song fits the show perfectly and was beautifully sung by Nina Silver who plays Blue in the production.
New Holiday Favorites:
Towards the end of the program there were two contemporary and original holiday songs that embodied the holiday spirit in fresh way—Season's greeting to all and to all some big laughs . . .and a partridge in a pear tree.
The first was song was "You Gave Me Birds," music and lyrics by Mike Hadge. The song was a clever parody of the traditional English Christmas carol "The Twelve Days of Christmas". Sherry Mandujano, Katherine Washington and Katie Porter performed this 1950's style song (Alla "Beauty School Dropout" from Grease). Led by Mandujano's booming and soulful voice, Washington and Porter's sweet voices made for perfect background vocals and equally entertaining featured moments. [FAVORITE LYRIC: "Birds and people—the worst way to show your love"].
The audience's pick was definitely the closing song, simply called, "The Egg Nog Song," with music by Derek Gregor and lyrics by Sam Carner. Emily Clark performed this clever high-octane comedy number. Here the writers cunningly lulled us into submission with the light holiday verse then pulled the rug our from under us to sheer hilarity in the chorus' punch line. Clark's fantastic comedic timing, showmanship and bravura brought the audience to merriment and cheer like no other holiday song has ever done. [FAVORITE LYRIC (a.k.a. the punch line): Somebody put acid in the eggnog"].
The most moving performance of the evening was Chrissi Erickson's (West Coast regional premiere of In the Heights) rendition of the song "I'll Take It All" from Island Song (music by Derek Gregor and lyrics by Sam Carner). Erickson cranked sexy into high gear in this quintessential pop, R&B, soulful number. From her first entrance the audience was completely entranced—waiters, and patrons alike could not look away. Her voice was smoky, smooth and powerfully gruff when necessary, an all around stunning performance. After the smoke settled, even John Tartaglia remarked, "I'm feelin' a little dirty".
WHAT ABOUT THE MUSIC DIRECTOR?
Music director and pianist Bryan Blaskie lead the 3-piece band for this night's showcase. Bryan tackled all this new music with ease and was able to skillfully go from one musical style to another. The band was a first-rate group of musicians that added rhythm, groove and "oomph" to all of the songs they accompanied.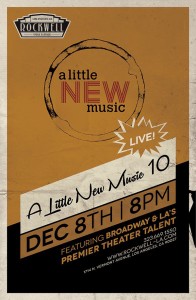 In the past two-and-half years, ALNM has received over 700 songs submitted; including this "Special Ten" performance, they've presented 137 new musical theatre songs from writers from all over the country. There's something for everyone at A Little New Music—fantastic performances, stellar artists, delightful writers and a glimpse into what the thriving L.A. theatre community has to offer. ALNM will return with their next showcase, lucky number 11, on March 8th 2016 at the swanky Rockwell: Table & Stage nestled in the Los Feliz neighborhood. For more information about ALNM please visit: alittlenewmusic.org.