Fruitcake Weather in Sierra Madre
REVIEW: A CHRISTMAS MEMORY
BY RYAN M. LUÉVANO
This year's holiday show at the Sierra Madre Playhouse is A Christmas Memory, a musical adaptation of Truman Capote's 1956 autobiographical short story of the same name. The music by Larry Grossman (Minnie's Boys, Snoopy! The Musical and A Doll's Life), book by Duane Poole, and lyrics by Carol Hall (The Best Little Whorehouse in Texas) take us to depression-era Alabama farmhouse where three older distant cousins reside and are in charge of raising the seven-year-old Buddy, whose adult self narrates the story. The story centers on the friendship of Buddy and his elderly cousin Sook as they seek to find all the ingredients to make their famous Alabama fruitcake for their friends and family. A Christmas Memory is a warm and fuzzy holiday musical that gushes with seasonal spices and the sentiment that "They don't make Christmas like that anymore."
The standout voice in the show is Jeff Scot Carey (Adult Buddy/narrator). He is a consummate actor with a warm and strong voice that shines in "What's Next", "Paper and Cotton", and the "Finale". Theresa Ford (Anna) offers another memorable performance bringing comedy, wisdom, and a country simplicity to her role, charming the audience with every entrance. Additionally, Ford's rendition of "Detour" shows off her soulful husky voice and swinging sense of rhythm—she jazzed up this number and makes sustaining a note on the word "detour" sound easy. From her first word, Diane Kelber (Sook) faithfully manifests the spirit of Sook's eccentric, child-like and sweet character—she's the perfect best friend bringing a sparkle of joy to every scene. As a vocalist in this musical, Kelber has strayed too far from what she does best—film, television, and straight plays—as she is seldom up to Grossman's challenging score, but gives everything she's got to make it work.
Jean Kauffman plays the realist Jennie bringing everyone in the family out of the clouds and back to reality. Kauffman walks a straight path with clearly defined character goals—she's movingly stern, letting go only in the poignant song "You Don't Know It" where her appropriately adenoidal voice expresses her point of view. Kevin Michael Moran is the sideline character Seabon who remains dramatically stoic throughout until he expressively sings "Nothing More Than Stars" in act two. Young Buddy played by Ian Branch offers a successful performance as the lead in this show and there's no doubt that with more experience and training in musical theatre's demanding trio of talents Branch can further develop as a young actor. Eighth grader Lucy Ferrante effectively plays the feisty tomboy and is an excellent counterpart to Buddy. Ferrante displays her first-rate singing capability in the wordy song "This and That".
Even with the expected disquietude associated with an opening night performance it becomes apparent that the cast, although talented, is collectively not the group of triple threats that musicals demand. Although Grossman's score uses familiar musical styles (ragtime, cake wake, and jazz), the score is far from easy to sing. Given that, consistant vocals are often the missing ingredient throughout, casting is the ultimate culprit. The two essential aspects for musical theater, voice type (range) and singing experience seem to have been overlooked. Director/choreographer Alison Eliel Kalmus effectively stages this musical, but offers little innovation, even the choreography is an all too familiar memory of Barry McNabb's choreography from the 2014 Off-Broadway Irish Repertory Theatre production.
A Christmas Memory is a quirky musical, mainly because it doesn't feel like a musical, more of a play with songs throughout, which makes sense given its largely unaltered source materials. The show first premiered in 2010 at the TheatreWorks Silicon Valley in Palo Alto, then Off-Broadway in 2014 at the Irish Repertory Theatre. Overall, the critics (Matthew Murray) agreed that the show:
". . . is an apparent attempt to craft a different kind of holiday musical: one that trades more on Capote's Southern Americana than the traditional elements (ice, snow, Santa) we've come to expect. But by going too far in some respects and not far enough in others, they've produced a weird hybrid that's neither moving nor especially evocative of the era and locale in which it's ostensibly set."
That being said, what makes this particular production work is that it is presented in the small, quiet town of Sierra Madre where approximately 45% of the population is between the ages of 45 and 65+ —a nostalgic small town show for nostalgic small town people.
WHAT ABOUT THE MUSIC DIRECTOR?
Music director Emily Cohn efficiently uses her portion of the thirty hours of rehearsals to bring a cast with multi-levels of singing experience to a successful opening night. Based on speaking to the producers and the cast they are ever grateful for Cohn's patience and skill in getting them through this difficult score. Cohn leads the 3-piece band on stage from the piano, and even with obscured cast visibility she flawlessly keeps this show together from beginning to end.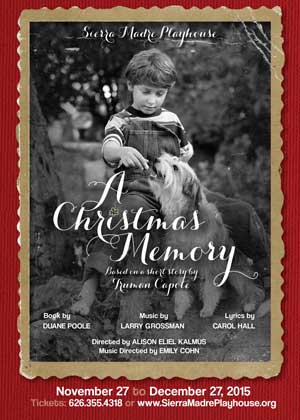 The Sierra Madre Playhouse production of A Christmas Memory is a delightful chamber musical that offers a holiday show befitting of the town it resides. Additionally, to celebrate the L.A. premiere of this show the playhouse is hosting fruitcake tastings featuring samples from local bakeries and mail order fruitcake companies. A Christmas Memory runs from November 27 to December 27, for more information and tickets visit: sierramadreplayhouse.org.