A Waterfall in the Playhouse
REVIEW: Waterfall, The Pasadena Playhouse
By RYAN M. LUÉVANO
The Pasadena Playhouse launches a world premiere of the new musical Waterfall, book and lyrics by Tony winner Richard Maltby, Jr. and music by Academy Award and two-time Grammy winner David Shire. An adaptation of sorts stemming from the Thai musical Behind the Painting (2008) which was inspired by a Thai movie, all of which was based on the novel "Behind the Painting" by Siburapha. The talented cast in this show consists of 19 Asian Americans and only 1 American offering a unique opportunity for Asian actors to fully participate in the musicals in L.A.
Set in Siam and Japan before the Second World War as the Thai monarchy is falling and Japan is about to enter the war, Waterfall explores themes such as East vs. West, Tradition vs. Modernism, and cultural politics in the 1930s. Many published summaries of the story use the words "love triangle or "affair" to describe the love story between Thai student Noppon (Bie Sukrit) and the Thai diplomat's (Thom Semsa) American wife, Katherine (Emily Padgett). These descriptions, although technically correct, offer lofty connotations of drama, taboo and intrigue that don't exist within the show. Katherine's marriage to the significantly older Thai diplomat is based on convenience and consolation rather than romantic love. Later, we discover he even arranges the affair between Noppon and his wife—sanctioned trysts are just not as fun!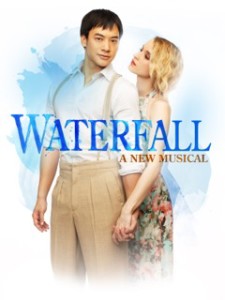 Waterfall stars Thailand native Bie Sukrit (Nappon) who was discovered on The Star, a Thai version of American Idol, and created this role based on his performance in the Thai musical Behind the Painting. Sukrit's performance in this production is certainly admirable but not necessarily captivating. Much of this could be attribute to the material. He carried the show's starry-eyed songs with his warm voice and delivered his lines with as much conviction as he could given the overly sappy lines that made his character seem borderline ridiculous at times.
Broadway veteran Emily Padgett (Side Show, Rock of Ages, Legally Blond and Grease) also stars in this production, expertly playing the role of Katherine. Her performance offers so much more than the material provides, as she truly owns her character, bringing dimension to this new role with her expressive and shimmering voice. Her performance of the songs "Watercolor" and "I See Him" are particularly special as she elevates the music with her climatic renditions that heighten the drama in act two.
Another actor that must be mentioned is Katherine's servant Nuan (J. Elaine Marcos) who proves that there are no small roles. Marcos brought a wealth of depth to her role, so much so that whenever she entered the stage the audience couldn't look away. Her mannerisms, delivery of lines, singing voice and overall aura were simply mesmerizing. In the same vain the ensemble cast members are also superb as they band together like a family to support one another on stage—you can tell they want to believe in this show. Whether it is lines of dialogue, intricate dances or musical numbers, the company always moves harmoniously as one never competing, continuously blending like brushstrokes on a canvas to create a collective work of art.
The most spectacular aspects about this show are the extravagant sets and costumes that can't help but evoke oohs and ahs from audiences. Sasavat Busayabandh's set designs are visual masterpieces including a railway station; docks, botanical gardens, giant drums, mountains and a 10-foot functioning waterfall that appears on stage at the end of act one. Equally extravagant are the costumes by Wade Laboissonniere. Colors of Asian culture come to life on stage as we see floral kimonos, silks, gold and red Ram Thai head pieces, Thai dresses, finger cymbals, ancient warrior masks and 1930s military uniforms. Dan Knechtges' entertaining choreography deepens the visual extravagance by layering Asian inspired dance sequences with Western sentimentalities that harken to the show's central theme of American culture encroaching upon Asian traditions.
With so many wonderful elements the Achilles heel of Waterfall is the material itself. The show's book, music and lyrics are not up to par to today's musical theater standards of forward thinking creativity. These elements offer little to the drama, the actors and the audience. While there's nothing wrong with a 21st century musical based on a the old boy-meets-girl, boy-loses-girl structure that harkens back to musicals of the Golden Age, this musical goes too far, painting a picture that is a less than perfect forgery of a masterpiece.
The most significant culprit is the book as its story fails to have enough at stake, fully developed characters, and to provide enough conflict to sustain the two-hour running time. The audience isn't invested in the resolution; they just need to know when to leave. Additionally, the choice to have Nappon break the fourth wall to act as a narrator of his own story further removes the audience from connecting to this story.
Simply put, the stock lyrics are predictable, and transparent. It doesn't matter what time period the show is set, songs must find new ways to express universal sentiments—blatantly saying "I love you," as in "I Loved You" is uninspiring at best.
The music, which shifts between opera and musical theater, works for the moment but is ultimately forgettable. Shire does a good job blending Asian music with Western music but that is as far as he takes it. Most of the melodies are underdeveloped and repetitive. The songs from the Asian side are pleasant but tiresome and the Western musical theateresque songs are clichéd and flavorless—although the song "America Will Break Your Heart" is a charming number.
All in all, there seems to be very little heart behind the material especially in the first act. In an interview with KUSC Shire put it best,  "[we were] professionals doing a job, we were paid a very nice advance to adapt this show . . .the more we worked on it, the more emotionally involved with it we became." Given this statement I wonder if they became "emotionally involved" later in the creative process, as the second act is wholly superior to the first.
WHAT ABOUT THE MUSIC DIRECTOR
With orchestrations by Tony award winner Jonathan Tunick the sounds of this show are spectacular. Furthermore, music director/arranger John McDaniel expertly led the cast and 14-piece orchestra in this new musical theater work. His conducting was exact, clear and encouraging which is to be expected from this seasoned award winning music director.
It's unfortunate that this show has so many dramaturgical problems given its admirable content that invites the Asian community to the theater. With plans to move to Seattle, then hopes of making it to Broadway, the writers need take the time to make some serious revisions and fully workshop the piece to get anywhere near the Great White Way.
Waterfall runs from June 7th to June 28th 2015 and if you're planning to see this show in the next two months come for the actors and stay for the sets and costumes because when it comes to the production and the material, the production is far more interesting—and for $14 million it better be!